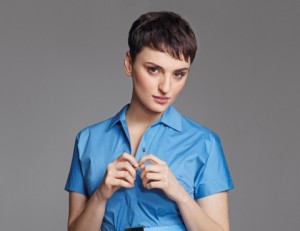 Arisa won Sanremo back in 2014, but unfortunately for her broadcaster RAI made an internal selection that year and instead of her as the winner of Sanremo they chose Emma. This year Arisa returns again to Sanremo with one goal this time to get to to represent Italy at the 2016 Eurovision Song Contest.
Arisa has expressed her eager to get to represent her country at the Eurovision Song Contest before, and now she has repeated it:
I don't want to win Sanremo to be the champion, but to be able to go to Eurovision.
She also joked she's making deals with the other artists in Sanremo this year. For example she said that Elio of Elio e le Storie Tese has promised her he will pass her the right to represent Italy in the upcoming Eurovision Song Contest if he win.
Her desire to represent her country in the Eurovision Song Contest was obvious as also her dissapointment, when after her win in Sanremo 2014 RAI didn't choose her for Eurovision, but instead went for Emma. She tweeted the night Emma was announced as the Italian representative to Malmo:
Oh f*ck. I got the wrong year.
Arisa has won two Sanremo categories: The Newcomers in 2009 with 
Sinceritá
and the Campeoni in 2014 with
Controvento
. In 2012 she came 2nd with
La notte
. Last year she was hosting together with Emma.
We ll have to wait until the 13th of February to find out if Arisa's dream to represent Italy at Eurovision will come true this year.
Below you can watch one of the most popular Arisa's song from her last album, La Cosa Più Importante