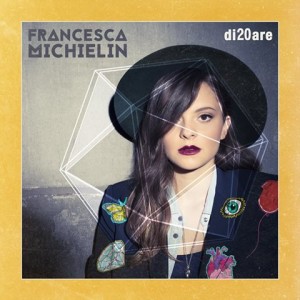 Today this year's Italian Eurovision representative Francesca Michielin released her album titled "di20 are". The album contains 15 songs, one of them being her Eurovision entry, although not yet shortened to fit the three minutes rule.
Francesca Michielin released today the album di20are. The album includes Nessun Grado di Separazione, the song with which she recently finished 2nd in the Italian Sanremo festival. That song has also been confirmed as the Italian entry for the 2016 Eurovision Song Contest, although we are still waiting for a three minutes version to fit the rules of the contest. Francesca Michielin accepted the Eurovision challenge after Sanremo winners Stadio had turned it down.
The new album contains the following tracklist:
Nessun Grado di Separazione
L'amore Esiste
Lontano
Amazing
E' Con Te
Almeno Tu
Tutto Questo Vento
Tutto È Magnifico
Un Cuore In Due
Battito De Ciglia
25 Febbraio
Io E Te
Sons and daughters
diVento
Nice To Met You – Acoustic Live Solo
The album is released on Sony Music Italy.
Below you find the embedded album stream on Spotify.