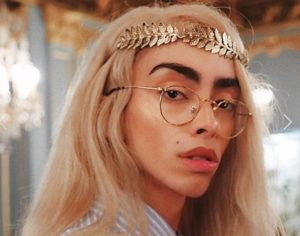 Tonight saw the final of France's Eurovision National Final where 8 songs competed for the honour of representing the gallic nation in Tel Aviv. The Voice Kids alum ultimately won the ticket to Israel with his song Roi
After two weeks of pre-qualifying rounds, tonight we were treated to the final 8 songs to make it into the final of Destination Eurovision. The competition became a two-horse race when runaway semi final winners Seemone and Bilal Hassani went up against each other for the title in Paris, and in this race the androgynous singer came out victorious.
Tonight was the night for all of the artists to update and polish off their performances for Tel Aviv and for the most, they have done well to give the audience a great show. We delved into boxes, technicolour 2D sets and childhood memories. As in the semi-finals each performer sang their potential Eurovision entry and a classic Eurovision song for the audience and the French public.
For the final, everything was of course bigger and better and this meant that the international jury was larger. Instead of 5 jurors, the final included a 10 person Jury, including Rona Nishliu (Albania 2012), Alex Panayi (Cyprus 1995 & 2000) and Doron Medalie (Eurovision 2019 winning songwriter for Israel).
After some suspect voting from the international jury, Bilal came from 5th place to first with the help of the French public recieving more than double the televotes of his nearest competitor Chimene Badi.
The Show
Destination Eurovision started with all eight acts giving a rendition of 2014 Eurovision winner Rise Like A Pheonix, was this sign of things to come?
All performers brought their unique style to the song and mostly to great response from the audience in the studio. In great French style, we didn't wait long before our first entry of the night as Chimene Badi kicked off the show.
Chimene Badi – La-Haut
We were treated to Chimene's version of 1988 Eurovision winner Ne Partez Pas Sans Moi by Céline Dion. Chimene was as always vocally strong and a great performer and she gave a confident rendition of the power ballad.
He Eurovision entry performance had a few significant differences in its presentation, starting off in the box with the LED projection screens, Chimene is this time joined by a male dancer who interacts with her, who then takes over the use of the box as Chimene leaves and is far less static in her performance. It really elevated the performance of a standard song making it more interesting and dynamic.
Silvan Areg – Allez Leur Dire
Silvan covered the controversial Eurovision 1991 French class Le Dernier Qui a Parle Qui a Raison, his voice may have been a little harsh for some Eurovision die-hards, but he is a talented and accomplished performer.
Unknown to myself, Silvan's song title was changed from Le Petit Nicolas to Allez Leur Dire although this wasn't the biggest difference in his entry. We were back in his animated world, but just like Dorothy entering Oz, we were welcomed into a technicolour version of this world. The performance looked and felt more professional, camera shots were tightened and Silvan worked the stage far much better. I still feel this could be a unique and memorable Eurovision performance. I was just waiting for Mary Poppins to join him in a song and dance on the bridge, unfortunately this never happened.
The Divaz- La Voix d'aretha
The trio decided to take on Eurovision's most famous winner, ABBA's Waterloo. As performers they are all strong individually as well a unit, yet this was not a great performance, the vocals seem to be a little off although I feel this may have been a problem with the sound rather than the singers.
Their Eurovision entry performance was completely the same, they showed off their strong vocals, this time with no hiccups at all. They stood on top of their shimmering LED plinth taking to the middle at certain points to take the lead vocals. The only difference was the outfits, they decided to become a little more edgy with more interesting hair and wearing pink leather jackets over their dresses, emblazoned on the back with the word Diva. This was such a tight performance and what cant be taken away from them is how good they are as an act. The Panel was asked after the first four performances who was their favourite and The Divaz were picked by both Christophe and Andre.
Emmanuel Moire – La Promesse
From one Swedish win, to the Swedish win that cemented the Scandanavian country as a Eurovision powerhouse, Emmanuel gave us a piano cover of Loreen's Euphoria.
Emmanuels performance had very little change in the final. The dancers were still their, they still stripped him of his blazer, arms first and he interacted well with the crowd. This is a competent performance if a little dull.
Doutson – Sois un bon fils
We get Doutson's version of J'ai Cherche, it was a rather flat performance and he looked a little uncomfortable singing the song, but this is not his style of music and he gave it a good try.
His Eurovision entry performance was very much the same, including 4 backing dancers and the same young boy who performed with him in the semi final. It was a good performance and it showed how much more comfortable he is at singing his own music.
After Doutsons performance, we went to the green room for one of the many visits of the night, this being notable for the guest they interviewed. France's last Eurovision winner, Marie Myriam joined the green room host to talk about her time at Eurovision and this set up well the next Eurovision cover version from Seemone.
Seemone – Tous Les Deux
After Marie finished her interview we were straight into Seemone's cover of L'oiseau et L'Enfant, a rather predictable choice for her, but she performed it impeccably.
Tous les Deux, another performance with no change to its semi final version although of all entries, this is the one that needed no changes at all. The song is stunning and sang incredibly well, if anything was added or taken away it would have destroyed the performance.
Bilal Hassani – Roi
Bilal took on what is possibly the most popular Eurovision song of the moment, Eleni Foureira's Fuego, the song that gave Cyprus its best ever result (second) in Lisbon last year. Bilal's vocals on this were very good and he seemed to really enjoy the performance.
The performance of his Eurovision entry has changed somewhat, instead of four backing dancers, we have Bilal start off alone with photos of himself as a child in the background. He is then joined by two backing dancers for the last minute of the song. The vocals were so much better than the semi-final and the performance was more professional.
Aysat – Comme Une Grande 
Covering Alexander Rybak's Fairytale, Aysat gave a good if a little uninteresting performance, yet her vocals are very good.
Her Eurovision entry performance was the least changed of the night, she had the same dancers, stage and by the look of it the same outfit. It was a carbon copy of the first performance, which isn't a bad thing. It was a confident and assured performance and certainly got the audience in the mood to party.  A great end to the performances.
At this point in the show with all the songs having been performed and waiting for the results, if the audience is anything to go by then Bilal Hassani will win by a landslide as everytime they hear Bilal's name they go absolutely crazy.
As the phone lines closed, Madame Monsieur were then invited back to perform their Destination Eurovision 2018 winner Mercy.
Results
| | | | | |
| --- | --- | --- | --- | --- |
| Performer | Jury | Televote | Total | Place |
| Chimene Badi | 56 | 63 | 119 | 3 |
| Silvan Areg | 76 | 26 | 102 | 5 |
| The Divaz | 44 | 48 | 92 | 6 |
| Emmanuel Moire | 64 | 51 | 115 | 4 |
| Doutson | 10 | 8 | 18 | 8 |
| Seemone | 94 | 62 | 156 | 2 |
| Bilal Hassani | 50 | 150 | 200 | 1 |
| Aysat | 26 | 12 | 38 | 7 |
Bilal will now go to Tel Aviv to represent France in the Eurovision Song Contest on Saturday May 18th.