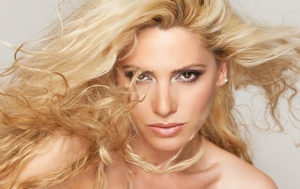 Albania's 2005 participant is back at the national selection, but this time as host. There is however also a bit of drama taking place as one of the 24 selected participants has been disqualified. Festivali i Këngës will take place in less than a couple of weeks.

The news about Ledina Çelo return to Festivali i Këngës came as a surprise yesterday. This time she won't be competing but will host the show, spread over three nights, together with actor Kasem Hoxha.
Ledina represented Albania in the 2005 Eurovision Song Contest with her song Tomorrow I Go, finishing 16th out of 24 entries. Kasem Hoxha is a German-Albanian actor, having a long career in acting and more than 40 roles in German films. Ledina and Kasem coinsidently both live in Germany.
Earlier this week, the Festival officials decided to remove one of the songs from competing at this edition. The song Mirëmëngjes by Edona Vatoci was disqualified due to a part of it being presented before its official release. Edona understoond her mistake and accepted her disqualification. It was then revealed that Xhejni Lito with the song Pritja,  will step in instead. That song is composed by Indrit Lelo and the lyrics were written by Sokol Marsi.
The 2016 Festivali i Këngës will be held on the 21st, 22nd and 23rd of December at Pallati i Kongreseve. 24 songs are competing and only 14 will make it in the final. Lindita Halimi and Flaka Krelani remain as the hot favourites to win. It however is still too early to predict as the songs aren't revealed yet.
Albania at the Eurovision Song Contest
The country took part for the first time in Istanbul in 2004 placing 7th with Anjeza Shahini's The Image Of You. In 2012 Albania got their best result with Rona Nishliu's ballad Suus which ended 5th.
Albania reached the final 7 times, and failed to qualify for it six times.
At the 2016 Eurovision Song Contest, Eneda Tarifa with  Fairytale Love didn't manage to qualify to the final .You can however check out her performance in the video below: