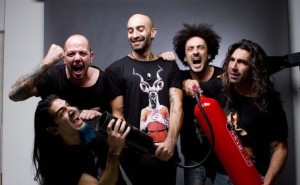 Minus One is set to present Alter Ego live for the first time on the 26th of March in DownTown, the club in which they have been appearing throughout the winter. Their live performance will be filmed and uploaded almost simultaneously to their official channel on YouTube.
Minus One, the Cypriot band that will represent Cyprus in the upcoming Eurovision Song Contest in Stockholm, will have a very busy April, as they are going to travel to three European capitals in order to take part in the larger pre-Eurovision events, and present their song Alter Ego to the European public.
Before that, they will finish their live performances in DownTown, the club that hosted all their gigs this winter in Nicosia. Cypriot fans, who have loved them so much that they crowded every single gig at DownTown, have demanded they conclude their live performances there. Minus One has granted their wish and they reveal to EuroVisionary that will perform their last gig there on the 26th of March.
They have exclusively told us that, for their first public live presentation of Alter Ego, they have arranged to have multiple camera shots, lights, and professional recording for the best possible result. The video will be uploaded to their official channel on Youtube almost immediately after the presentation so that everyone can watch it. Of course, this being a gig, the vocals and music will be live. Minus One promise us a spectacular performance.
We want to show our skills in live performances because we believe that this is our strong point. This is what we know to do best all these years and we love it. We are looking forward to the first live presentation of Alter Ego, we hope you like it.
Minus One are planning more live performances in April, with Greece included in their schedule. Stay tuned to EuroVisionary for the latest news regarding Minus One on their road to Stockholm.
Below enjoy the Cypriot entry for the Eurovision Song Contest 2016 by Minus One: