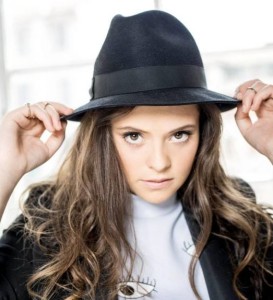 Italy is set to sing the song No Degree Of Separation at this year's Eurovision Song Contest. After she was chosen to represent Italy this year there has been speculations about whether or not Francesca Michielin's Sanremo 2016 entry would be kept in Italian or not. It seems the answer is a bilingual version.
Francesca Michielin was the runner up in this year's edition of the popular music festival Sanremo with the song Nessun Grado di Separazione. As the winner didn't want to go to Eurovision, Francesca was asked, and accepted the offer.
It was however not clear in which language she would sing, and as the lyrics were revealed on the official site Eurovision.tv, we can see that it is with verses in Italian and a chorus in English and that the title is No Degree Of Separation.
The lyrics of the 2016 Italian entry:
È la prima volta che mi capita
Prima mi chiudevo in una scatola
Sempre un po' distante dalle cose della vita
Perché così profondamente non l'avevo mai sentita
E poi ho sentito un'emozione accendersi veloce
E farsi strada nel mio petto senza spegnere la voce
E non sentire più tensione solo vita dentro di me
Nessun grado di separazione
Nessun tipo di esitazione
Non c'è più nessuna divisione fra di noi
Siamo una sola direzione in questo universo che si muove
Non c'è nessun grado di separazione
Davo meno spazio al cuore e più alla mente
sempre un passo indietro e l'anima in allerta
e guardavo il mondo da una porta
mai completamente aperta e non da vicino
e no non c'è alcuna esitazione finalmente dentro di me
There is no degree of separation
There is no degree of hesitation
There is no degree of space between us
live in love
We are stars aligned together
dancing through the sky, we are shining
Nessun grado di separazione
Nessun grado di separazione
in questo universo che si muove
E poi ho sentito un'emozione accendersi veloce
E farsi strada nel mio petto senza spegnere la voce
This bilingual version of the song isn't yet revealed, but we can probably expect it quite soon. In the meanwhile enjoy the Italian version below: