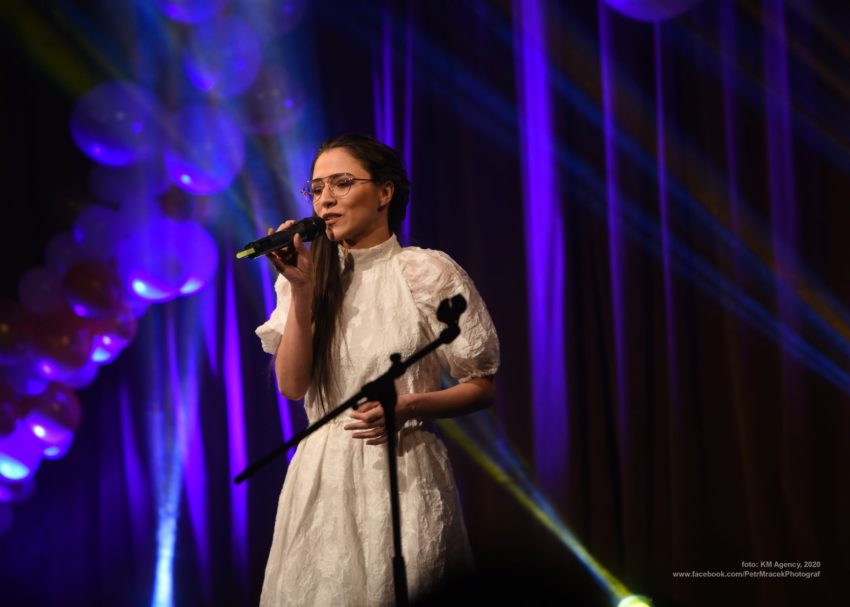 While Mikolas Josef was successful in Lisbon, there were some hidden gems back in the Czech national final in 2018. For example Eva Burešová with her song 'Fly', which is for some mystical or atmospheric, but for others already too modern.

Czech Republic returned in 2015 after its absence at Eurovision and slowly started building its reputation in the competition. This lead to the re-introduction of the public national final. Though online, the public had finally its chance to choose the representative. The national broadcaster introduced 6 national final songs and people could vote. Only the Czech votes counted in the end, but foreign votes were informative for the broadcaster.
Eva Burešová was one of the artists in the new Czech national final called Eurovision Song CZ or shortened ESCZ. Eva was one of the artists who were already known before the national final unlike Mikolas Josef, who quickly became a rising star in the Czech Republic. Eva brought a dramatic ballad called Fly. Behind the song is Václav Noid Bárta who competed at Eurovision already in 2015 with Marta Jandová. This time he composed a song for Eva and it was among the favourites, in the end, after being second favourite with the public, but receiving only 2 points from professional Eurovision artists in the jury, Eva took a bronze place in this 6-piece national final.
Fly – opinions from fans
In order to find out what Eurovision fans today think of this song from 2018 Czech national final, we asked our Eurovision Fan Panel. It includes team members as well as fans from all over the world.
🇨🇿 Josef Š. – Eva's song Fly was my favourite back in 2018, together with Mikolas. He later proved to be the best Czech representative ever at Eurovision, but I think that Eva would have finished also really well. Her ballad Fly is mystical and modern. When I heard it for the first time, I thought of Armenia, thanks to the unusual sound effects. Eva's vocals are perfect and she is only better and better. I wish to see her back in ESCZ soon.
🇪🇸 Mária P. – In my opinion the song Fly was a good candidate. I can't say I love it, but I think it's quite good. It's a nice ballad, pretty different from the standard, somewhat ethnical, with a good voice performing it. To me it was better than the chosen one, which I find too repetitive and boring.
🇮🇪 Paul K.- I actually love this! It is a perfect blend of emotion and grit and I love those lyrics! Fly is a song that I have never heard before but I'm definitely having it in my playlist on repeat
and when I compare it to the actual entry they sent, I think I prefer this one more because this one has raw emotion and a perfect melody! I don't know if this would have gotten higher than 6th though, cause Mikolas' song was very much beloved by all, but I can tell you that if this was chosen instead, it would have been amazing and I can only imagine the staging that could have been! I'm in love with it
🇩🇰 Charlotte J. – This is too modern for me. I do hear the quality in this song, and as such I am not in doubt that many people will like it. It's just not for me. That year, Mikolas Josef scored a 6th place for Czech Republic. Would Eva have done better? I don't actually think so. I think it would have made top 10, but not top 5.
🇬🇧 Michael O. – This song could have featured as track 9 on one of Christina Aguilera's CD's by the time the public had stopped buying her disks. No doubt Eva has a very powerful voice, and with a better song certainly could represent Czech Republic in future, but the country made the right choice with Mikolas.
🇧🇷 Amir B. – A such powerful ballad. The song brings emotions in different scales. The instrumental emphasises the emotion, with the excellent vocals makes this a beautiful and powerful song. You feel the power of the songs at same time as you want to send a bit of peace and love to the singer!
🇬🇧 Mhairi O. – I'm not really a fan of Fly. I think maybe it's because I wanted Mikolas Josef long before he was chosen. I think Fly would maybe have qualified, but it wouldn't have done as good as Lie To Me.
🇨🇴 🇫🇮 Alvaro S. – The fact that I don't like the message of Lie To Me, makes this hopeful song even more interesting for me. I find the lyrics of Fly more meaningful than the actual song Czech Republic sent for Eurovision. Although I have to admit that, being Lie To Me a fan favourite this song would have probably been underrated by the televote.
🇬🇧 Ashleigh K. – Eva's song is very atmospheric. Staged right, I think Fly had the potential to do well at Eurovision. That being said, I do think they made the right choice with Mikolas Josef. It does have a 'cheaper' sound but Mikolas' charisma made Lie To Me memorable and when you listen to 26 songs in one night you're going to vote for the one that stands out and the one you remember.
Enjoy Eva's official lyric video from the 2018 Eurovision Song CZ in the embedded video. Below the video, you can read more about her.
Eva Burešová – a mini biography
Eva is 27 years old singer from the Czech Republic. Having both parents musicians, it was no surprise that she started singing very early and continued her studies at multiple conservatories where she studied musical theatre, jazz and world music. She slowly started to appear at the theatre in musicals, first in company and then received her first solo roles. Her breakthrough came in 2011 after taking part in Czech and Slovak Got Talent TV show. After that, she got more main roles in musicals and was recognised by general public in the Czech Republic.
Eva also acted in multiple TV series, which is something she still does even now. Her second important year was 2018, when she took part in the Czech national selection for Eurovision, and also competed in the fifth season of Your Face Sounds Familiar, where she ended as the runner-up. Since 2019 she appeared as one of the main characters in a TV series called Slunečná (Sunny). Thanks to this, she is now known not only as a singer but also as an actress. Eva has one child – a son named Nathaniel, who was born in June 2017.