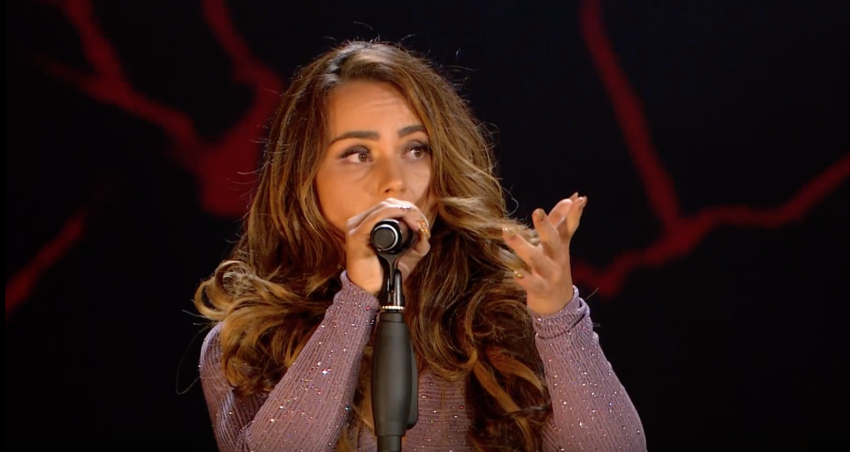 After three nights of shows, live music and surprises, Festivali i Këngës 55 came to an end. Lindita Halimi was chosen to represent Albania in the 2017 Eurovision Song Contest over 13 other acts by winning at the combination of the jury and public vote.
Albania became the first country to pick a song, but not a singer this year. Lindita won the jury votes with 80 points and ended up 3rd by the public vote. By the combined votes she ended up winning the 55th Edition. This marks yet another woman representative for the country.
The songs
1. Franc Koruni – Macka (Pussycat)
The night opens with Franc's rhythmic song. He sings and raps throughout the song, as he plays around the stage. This song takes the listener and viewer in a bar and all you need is a bottle of wine and the will to have fun while dancing.
2. Lorela – Me ty (With you)
And once the party is over with Macka, one needs a slow-paced ballad to relax while bumping to the radio of the taxi they got into. Lorela provides nice vocals throughout the whole performance. Her voice has a distinct sound, while the song seems like it was made for a movie soundtrack.
3. Xhesika Polo – Eva jam une (I am Eva)
The third act to compete is Xhesika Polo. Xhesika has competed in different shows, yet, this is her 1st time at FiK. She makes her debut in the Festival with a mid tempo song. The well-known solo guitar parts that FiK songs are used to have is also present here. Vocally she is much better than the 1st Night Show. She does seem kinda nervous though, yet her nerves help her bring out the emotions of the song.
4. Xuxi – Metropol (Metropolis)
A surprise qualifier is up next. Naim Bunjaku, also known as his stage name Xuxi, brings a laid-back sounding song. One cannot simply admit that he has a great style that anyone of his age would want. He seems to be enjoying himself on stage throughout the performance.
5. Fabiola Agalliu & Agnesa Çavolli– Shikon e vjen (Stares and comes)
And now we move on to the only duet of the night. Two ex-Voice competitors have joined force to bring their girl power on stage. Their vocals are on point, and the harmony between their different voices is also paying off during the chorus. They have a better chemistry than the 2nd Night Show. They seem more relaxed and give their all on this performance.
6. Dilan Reka– Mos Harro (Do not forget)
Dilan comes up next after the unexpected performance of Soprano, Inva Mula. This is the only electro-dance song one can enjoy tonight. It comes as a huge contrast to the previous songs, thus standing out a lot. Vocally, he is very good, the song is quite catchy and is one of the big favourites. The public loves this, as it got a huge applause by them. Last time Albania had an up-tempo song was in 2010. Dilan makes 2010 seem like yesterday.
7. Lindita Halimi– Botë (World)
Lindita is back after a year break with a power ballad. The song is like a lullaby and Lindita manages to bring a lot of emotion through. Her vocals are the strongest tonight. She hits those long-lasting notes, as she did during her audition on American Idol Season 15. She has remained the hottest favourite to win since her confirmed participation in the 55th Edition. Will she snatch the trophy though?
8. Flaka Krelani – Osiris (Osiris)
Another hot favourite comes up next. Seems like RTSH is putting the favourites in a back to back. Flaka Krelani is competing with the song Osiris. You could call her the Albanian Saara Alto. Always making it to the top 3 yet never getting the trophy at the very end. Flaka knows how to rock the stage and her vocals never disappoint.
9. Rezarta Smaja – Pse prite gjate (Why did you wait long)
Rezarta is back for yet another year. This year she brings a mediterrenean sound to the Festival. Catchy song I must say and this might remind of summer time to Southern Europeans, as the song resembles summer hits in countries like Spain or Greece. Vocally steady and good.
10. Edea Demaliaj – Besoj në ëndrra (I believe in Dreams)
Next up is a ballad sung by Edea Demaliaj. Edea became known through her participation on X-Factor 4 Albania. She is bringing drama with her Festivali song. The Bond-esque feel at the beginning and the end of the song are the most memorable parts. Conchita Wurst anyone? Edea's vocals are on point much of the time. She manages to hit the high notes correctly.
11. Yll Limani – Shiu  (Rain)
Ylli comes after the medley sung by the host Ledina together with Sidrit Bejleri. He was the dark horse of the 1st night. Ylli's song gained significant popularity among the fans. Making it in the Top 5 may not be hard for him. The song is a modern ballad, The chorus has a certain Balkan feeling. Maybe the way he sings is the reason why. His vocals stand out throughout his performance, while he manages to be steady on every note.
12. Lynx – Sot  (Today)
The only Group competing tonight. Lynx brings an energetic rock performance on stage. They have a nice presence on stage. The vocalist is relaxed and singing on key. They are enjoying themselves for sure. Rock songs do not tend to do well though. Will they turn the tables?
13. Orges Toce – Shi Djamantesh (Diamond Rain)
From rock to pop-rock. Orges is bringing rain full of diamonds on stage. He has a suited voice for rock, a pretty nice one I can say. His vocals have been good and on point, not missing a single note.
14. Genc Salihu – Këtu (Here)
Genc closes the show with his jazz-like song. He is a well-known musician and has been a coach at the 4th and 5th Voice Editions of Albania. A smooth song which requires another round of wine tonight. Seems like he wants to perform rather than compete. Undoubtly, good vocals and voice.
The show
The Final of the 55th Edition kicked off at Pallati i Kongreseve earlier tonight. Ledina Çelo and Kasem Hoxha hosted the show as they did so for the previous 2 nights. The hosts opened the show with a warm welcome, only to be interrupted by some technical problems. The show re-opened with a song by a virtual Vaçe Zela, the once biggest voice in Albania and a 12 times Festivali winner. Andri Xhahu, the commentator and spokesperson of Abania for the past 4 years in the Eurovision Song Contest, was with the participants in the green room, where he explained the voting procedure. Like the previous nights, during the whole Final Night an introductory video was shown before each song, showcasing a different figure of the Albanian music scene.
The first special guest was the world-famous opera lyric soprano, Inva Mula, who was also a judge at this Edition.
Inva sung Shqipëri o vendi im (Albania, oh my land), written by her father. Fantastic vocals and a magnificent woman.
Sidrit Bejleri, famous musician and coach of the Voice of Albania, was the next guest. Sidrit and Ledina sung a medley of famous Albanian songs throughout the years. A nice duet, while providing the public and viewers with blasts from the past. Later on, Ledina performed a song accompanied by Genc Tukiçi at the piano. Ledina showed an unexpected side of herself as a soprano.
A stand up comedian, Genc Hazizi came on just before the voting procedure kicked off.
The Voting
The voting was divided to 60% of Jury vote and 40% Public vote.
The Professional Jury consisted of Altin Basha, Vikena Kamenica, Alma Bektashi, Vlashent Sata, Arben Duka, Petrit Çeku, Inva Mula.
An additional Jury of 5 members consisting of former Eurovision participant, Anjeza Shahini, Elsa Lila, Nertila Koka, Fatrin Krajka and Adelina Ismajli was also added. The 2 juries casted their votes with 1, 2, 3, 4, 5, 7 and 10 points for their TOP 7 songs of the night.
The public was able to vote once all 14 finalists were presented, by casting their votes online on the Facebook page of Festivali i Këngës Në RTSH.
Top 3 of the jury vote are:
1. Lindita Halimi
2. Genc Salihu
3. Dilan Reka
Top 3 of the public vote are:
1. Yll Limani
2. Dilan Reka
3. Lindita Halimi
Top 3 of the combined votes:
1. Lindita Halimi
2. Genc Salihu
3. Dilan Reka
Albania at the Eurovision Song Contest
Albania debuted in 2004 with remarkable 7th place. The country's best result, though, came in 2012 when Kosovar-Albanian singer Rona Nishliu ended 5th with her egocentric ballad Suus. Albania has been present at 7 finals and has been disqualified 6 times.
This year Lindita Halimi will represent the country in Kyiv. Check her winner song below: