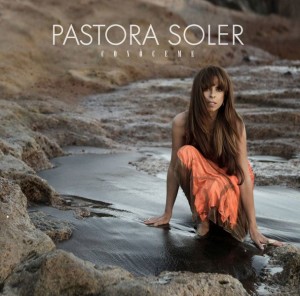 Conóceme is the tenth studio album from Pastora Soler and she sings at a level unheard in a while. A great voice is not enough, but she also knows how to tell a story in the three minutes each song takes while its lyrics unfold those unforgettable moments that occur throughout our lives.
The idea of this album came up during Pastora Soler's participation at the 2012 Eurovision Song Contest where she met Tony Sanchez-Ohlsson, one of the composers of Quédate Conmigo, who has become one of the main responsible for this new work. They have been working together ever since then and the result far exceeds the wildest expectations.
Just taking a look to the cover of the album we may suspect that there is something new and shocking here, but what is surprising though is how much her voice has evolved into something new and how modern this album sounds in places over a wide range of genres. Despite this, Conóceme is not a revolution in her musical style, but rather a way to show how versatile she can be. On every song, Pastora's vocals navigate the highs and lows with effortless ease and her emotionally charged rendition touches a chord in the listener.
The album begins with the first single, which was released a month ago, Te Despertaré (I Will Wake You Up), which is a powerful pop ballad built around a gorgeous piano melody. But one of the highlights of the album comes with the second track, Espérame (Wait For Me), whose lyrics are about those couples who are forced to live away from each other. This song is a great example of the unimaginable power and range that Pastora has in her voice, moving from a whisper to a scream without the slightest suggestion of effort. At the last verse a gospel choir joins her to maximize dramatic effect.
Vive (Live) is a pop song full of optimism and good vibes with which she wants to convey that dark times are over and it is time for a new beginning. It has a great string arrangement and her vocal delivery is very impassioned.
The next song on the track list is Fuimos (We Were) which has been written by José Abraham, one of the composers who have created some of the biggest hits of Pastora's career and whose collaboration could not be missed in this project. This romantic ballad sounds as some of the best songs of her previous albums but with a touch of freshness. It is superbly well-crafted and amazingly well-sung.
The title track on the album, Conóceme (Get To Know Me) is a song about a friendship which goes beyond. She starts singing in a whisper but, as it approaches the end of the song, her resounding and versatile voice becomes passionate and full of emotion where her sheer vocal enormousness comes without the baggage of bitterness or hurt.
Here comes the catchiest song of the whole album, Pasa La Vida (Life Flies By). Although her voice is very melodic, you can't help but tap your feet while listening. The entire composition is outstanding and each instrument compliments the other with practiced ease. It is such a rich and tasty treat for the ears.
In Cambiando (Changing), she sings about a woman who calls for a new opportunity. Her gritty cries and explosive crescendos raise goose bumps but the surprise comes at the end where she is accompanied by one of those students' music groups well-known in Spain as "tuna", which has its roots in the fifteenth century when students sang and played on the streets to earn some money, and what gives the song a sound reminiscent of the typical Mexican "rancheras".
And it's time to weep listening to Te Voy A Recordar Así (I Will Remember You Like That). We all can be identified with any of the verses of this song where she sings to someone who is about to pass away saying to that person that will be always alive in her heart. This track brings nothing new to the album musically, but it is a delight to hear her voice in such a deep ballad.
No Me Rendiré (I Won't Surrender) is refreshingly different and it can be nearly guaranteed that it will be stuck in your head for quite a while. This song is a complete breath of fresh air in the album and its lyrics are just as interesting and deep as any of the other tracks. To be fair, this song may not gain the interest of all of Pastora's previous fans, but it is amazing to find that this upbeat style suits her perfectly.
Si Vuelvo A Empezar (If I Start Again) is the only song from this album which is written by Pastora herself and it is based on her own love story with her husband. In this modern ballad her full-throated voice soars creating the perfect mood that hooks the listener.
As usual, an album from Pastora Soler always ends up with a simple but at the same time poignant song which uses to be sung only with a piano accompaniment and that brings out the best of her vocals. On this occasion, this song is entitled Madre and it is of course dedicated to her mother.
After having listened to all the songs the question is: is it a wise decision for a singer such as Pastora Soler to release an album like this? Probably yes. We could not say that this album has a spectacular production or its lyrics are very innovative but it is definitely her consolidation as an artist. She has one of the best voices in Spain and her musical style has always been linked to the copla but, from now, she can also stand as one of the best pop singers. Her wish to do something new in this album will leave some of her fans waiting to hear some more powerful ballads, but she has dared to explore her voice in new musical styles and this is worthy of merit.