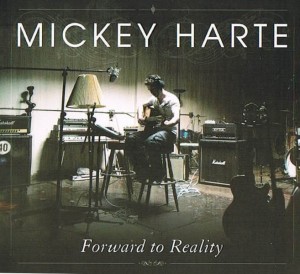 Forward to Reality is the title of the third release from former Irish entrant and multi talented musician Mickey Harte. Released today on his own Swerve Music Ltd. label, Eurovisionary has had the privilege to be given a sneak peek at what's in store for his fans.
The much anticipated follow up to his commercially successful second album Live and Learn is a more contemplative affair than his previous material, much more stripped, with a pronounced confidence yet at the same time managing to sound extremely vulnerable in places. Some musicians have their voice as their trademark, others rely more on their guitar skills – Mickey Harte possesses both, as he demonstrates on Forward to Reality.
The opening track Not Wasting Another Day gets the album off to a rousing start, with a rootsy, gritty, country tinged number showing Harte in fine voice. Uplifting and with a scarves-waving-in-the-air chorus, this is a cracking start to Forward to Reality. A song of defiance and determination, the lyrics have a theme that we can all relate to; the desire and decision to make something of our lives. With Time as the follow on track, we're taken to an altogether darker place; the similarly honest sound continues, stripped bare of effects and bells and whistles as Harte sings of using time to help win somebody over. A nice touch with the horns and the almost chanting backing towards the end complement the song very nicely indeed.
Bordertown is another song featuring a message of determination and belonging; growing up in a particular place that keeps a hold on you and not being able to escape. The guitar chords lend it an almost lullaby like quality, and Harte gives an extremely emotional vocal performance here. Alternation between high and low notes adds for great effect, helping to build the atmosphere towards the end of the song. On the next track, Practical, we sense an altogether lighter air; this despite being a love song where Harte asks not to be led up the garden path. Steel strings and a thumping railroad backing gel perfectly with the country feel and Harte's vocals complete the overall organic sound.
Tragic is, as the title entails, a song about relationships souring. With a simple hook and chord progression it's a very economical song which wastes no time in drawing in the listener and steadily builds to it's climax. On I Like The Way You Think, there is a distinctly more bluesy feel, with very little backing to accompany Harte's seductive, naked vocals which at times range from a snarl to almost whispers, making this a very sensual track offering a more intricate and challenging melody. Definitely one of my favourites on the album.

Living In Our Town has a very rich guitar intro, with the chord progressions building a layered sound, and a folksy touch. The song deals with a very controversial topic – the mass influx of migrant workers to an already economically shaken Ireland and the prejudice that comes with it. An unusual subject matter, but the subtelty and almost storyteller way of dealing with the theme makes it work funnily enough. Tears is the next track up, filled with longing and lament; not as instant as previous tracks heard, but that is by no means a bad thing. A broodingly melancholic, atmospheric number that adds depth and variation to the album.
Unstoppable Train is a swirling, solemn affair which sees Harte touch upon even more personal subject matter, as he sings of finding his feet again and giving anything to wash away the pain. An altogether darker sound to this track will probably mean that this is not everyone's cup of tea, but for me was another highlight on the album, with a haunting finish.  Fix It quickens up the tempo of the album once more, a stark contrast to the previous number. A much more rhythmic track, Fix It goes hand in hand with Harte's husky vocals and meanders nicely from start to finish, dealing with the challenge of mending problems that arise in a relationship. The next track, Man's Allowed to Dream, sees Harte in a quieter, more pensive mode with a delicate melody over lyrics about being in love; a gentle, well crafted piece in the singer-songwriter tradition with Harte's vocals once again shining through and this is undoubtedly one of the tracks with a more obvious, more instant appeal.
Survive is the album's penultimate track, with a coarser vocal lamenting of never quite being enough to satisfy someone and trying to get along and make things work. A persuasive performance which engages the listener with its subject matter, a bittersweet song which gives much afterthought. Forward to Reality draws to a close with the final song, Broken Love. A subdued, wistful track, Broken Love brings Harte's third album to an befitting, emotional climax. Lyrics that once again deal with complicated matters of the heart and vocals filled with yearning, coupled with some stunning backing vocals make this, for me, one of the most touching and revalatory songs on the album.
There we have it. Thirteen tracks on Harte's third album which make for an intriguing listening experience. Their honesty and straightforwardness may not appeal to everyone, but the quality of this album makes it evident as to exactly why Harte has emerged as one of the leading singer-songwriters in Ireland today. An almost alarming ability to lay himself bare, Harte manages to create an intimacy seldom heard and that is one of its main draws; he engages his audience on what is an extremely private, cathartic album. If you want an album that is blissfully free of gimmickery, where quality music gives layer upon layer of listening pleasure, then this album comes highly recommended and well worh the investment.
The track listing is as follows:
1.  Not Wasting Another Day
2.  Time
3.  Bordertown
4.  Practical
5.  Tragic
6.  I Like The Way You Think
7.  Living In Our Town
8.  Tears
9.  Unstoppable Train
10. Fix It
11. Man's Aloud To Dream
12. Survive
13. Broken Love