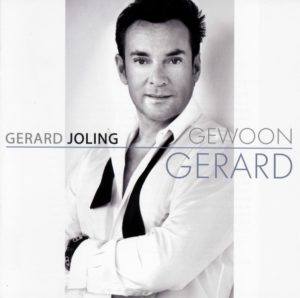 Gerard Joling, who represented the Netherlands at the 1988 Eurovision Song Contest and since has been one of the best selling names in Dutch pop music, has released a new album, which for Eurovision fans includes a cover version of Carola's 1983 Swedish entry.
The album kicks off with Ik Kan Er Weer Tegen (I can handle it again), which is a catchy up-tempo pop song in best Gerard Joling style, to make everyone feel home. It is a good start, but once you have heard the entire album you will realise that it is also one of the best ones. A few more stands out, but let's go through them track by track. 
Zonder (Without) starts out as a very beautiful ballad, but feels a bit heavy on the chorus, which is a shame as it had potential to reach higher. Nevertheless it is worth listening to. So far so good. 
Hou Je Morgen Nog Steeds Van Mij (Will you still love me tomorrow) appears like a song that doesn't really get anywhere on first listening and the backing vocals really is annoying, however I noticed that it grew a bit the second time, but not enough to save this song. This one does no good to the album. 
De Stilte (Patty's Song) (The Silence) sounds like a lullaby, but really is a love song Gerard is singing to one who suddenly came in to his life without him asking for it. It really starts out very good and up until two minutes into the song you have a feeling you might just have discovered a hidden treasure on this album, but when he then gets into the more than two minutes humming you really just want to skip to next track. 
Er Hangt Liefde In De Lucht (There is love in the air) is yet another song, which really does no good – and a second listening here makes no difference. There is nothing that can justify why this would have been picked for the album, aside from that he might not have had anything else. 
Liefde (Love) is a post mortem duet with Willy Alberti (father of Willeke Alberti, who represented the Netherlands at the 1994 Eurovision Song Contest). It is a very good song made in respect for the original song by Willy alone. These post mortem duets doesn't always turn out good, but this attempt works very well. Applause for that.
Je Ogen Hebben Geen Geheimen (Mona Lisa)  (Your eyes have no secrets) is what will attract most Eurovision fans to this album. It is a Dutch cover version of Främling, which Carola sang to a 3rd place for Sweden at the Eurovision Song Contest in 1983. Due to the similarity between Dutch and the Scandinavian languages an almost literal translation has been possible and it works really well in Dutch – and fits Gerard Joling's voice. Probably the best song on the album, well done!
Dat Ben Jij (That's You) is a more quiet pop ballad. Gerard's ballads are often his weakest point, but this one deserves a bit more attention. Right after the Främling cover you might not notice just how great this is, but on second and third listening you realise that here we actually have a song that is among the three best on the album.
We continue with another up-tempo song Casino (Of Je Wint Of Verliest) (Whether you win or lose), which is clearly what Gerard likes the most to sing. It sounds like a mix of quite some of his previous songs, but it is not of the quality that would make this a hit. It is not directly bad, but it just doesn't stand out at all.
Gerard Joling's albums are often a mix of up-tempo songs and ballads and this one is no exception. It is time for a more quite song and Ik Wil Leven (Yo Queria) (I want to live) does live up to that. It is a cover version which Mexican singer Christian Castro had a big hit with. It is another song, which really wins on more than one listening. 
Second to last song on the album is Draai Je Om (Tornerai Tornero) (Turn around). If anyone should be expecting a cover of Romania's 2006 Eurovision entry Tornerò then they will be in for a disapointment here. This is a cover version of a hit song from the Italian band Homo Sapiens, that won the 1977 San Remo Festival with Bella Da Morire. This up-tempo arrangement is however quite different from the original and unfortunately it is also far from living up to what Gerard Joling can do. 
We started out with a party and we end with one. We Zijn Er Klaar Voor (We are ready for it) is yet another catchy pop song, which is what Gerard do best. This one could be a hit song and it is clear that Gerard Joling is in his right element here. 
All in all then we have an album here that do contain some good songs and also some, which are not so good. Quite typical for Gerard Joling, but the album clearly miss a Maak Me Gek smash hit. As quite some of the songs wins on second or even third listening I will advise people to give it more than just one chance. If you like Gerard Joling this is an album to invest in – and if you really don't; then at least listen to Dat Ben Jij and of course Je Ogen Hebben Geen Geheimen (Mona Lisa) if you are a Eurovision Song Contest fan.