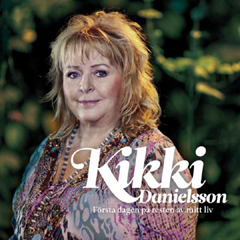 Kikki, undisputed queen of Swedish schlager and dansband music is back on the scene after a five year hiatus with her newest offering Första Dagen På Resten av mitt Liv (The First Day of the Rest of my Life).
The troubled star recently held a concert at the alternative rock venue Debaser in Stockholm, heralding her comeback after a 5 year break during which she has performed a public exorcising of her past, dealing with many private issues. Her concert gave fans a sneak preview of her brand new sound on her latest album. But is it any good? Well, Eurovisionary has had more than one listen through the flunking new tracks, read on to hear the verdict.
Those of you expecting bouncy, fluffy singalong pop better leave those shoes at the door, because Kikki has now chosen to get down and dirty, don her leather chaps and boots and bring out a country album! Yes, you read correctly. Första Dagen På Resten av Mitt Liv is an album consisting of 14 songs, a mixture of Swedish and English language tracks to keep everybody happy. Or will it?
The album kicks off with a bang in the form of Wagon Wheels. Things don't get much more countrified than this, with harmonica and banjo, sounding more like something from one of Shania Twain's earlier albums. Her voice sounds weathered but in a pleasing way as she sings of taking life's challenges in her stride. You can't fail to tap your foot along to this first track. On Låt Min Stärka Låga Brinna Kikki unfortunately veers too close to the oh so familiar dansband sound, although country and dansband do marry well in most cases, this song just plods along and sounds as flat as a pancake. With a so-so chorus, this is one of the more average songs on offer.
Första Dagen På Resten av Mitt Liv picks up where track two left off, continuing in the same tempo, although the saving grace here are the lyrics, full of hope and giving a positive vibe. With twanging guitars and other country effects she is in danger of giving the listener a country overload. Has anyone told Kikki less is more? Wine and Roses is one of the better tracks on the album, offering a more genuine country sound as heard in Nashville, Tennessee. Once again her voice sounds almost weary here, but gives the song character and depth. Yeehah! This one had me hunting around for my lasso…
Varje Sång Har Ett Slut is one of the few Swedish language songs to avoid the dansband pitfall, retaining an authentic country sound. It is another optimistic number, telling us to appreciate the good times, as every song eventually comes to an end. Great intro with the fiddles and the touch of brass helps to lift the track considerably so that you can almost smell the gunsmoke and Jack Daniels. Maybe I'll Do is a duet where Kikki sings with the brains behind much of the new material, Sulo Karlsson. Their voices complement each other perfectly, with Kikki sounding as if she's gargled with gravel. This definitely has a rawer, more bluesgrass feel that much of the album. A solid album filler with a very handsome tune that has you humming along.
On Att Få Älska och Bli Älskad Igen the country sound is trowelled on so thick, that it's almost too much of a good thing. A mid tempo number where Kikki sings again of lonely nights and longing to love and be loved back all packed in a pleasing enough melody. Inga Lösa Skott is another one of these hybrid dansband-country tracks complete with woah-ohs a plenty, but has a passable chorus that gets stuck between your ears, gallopping at a pace fast enough to make it a firm favourite at the nearest barn dance to you!
If Kikki should have omitted one track from the album then it should have been Jag Trodde Änglarna Fanns, which doesn't really fit in here – it is a pure bred dansband song, and no matter how much you try and cover up the fact with country instruments, you can't make a silk purse out of a sow's ear. The male vocal along with an abominable key change will have you reaching for the fast forward button before you know it. It would take a lot to manage to mess up the next track, the country standard To Know Him is To Love Him performed by the likes of Emmylou Harris, Dolly Parton and Linda Ronstadt. To dare to attempt a cover of this could well have been madness on Ms Danielsson's part but she actually does a credible job, giving us subdued and extremely heartfelt vocals. The highlight of the album.
On Backstreets of my Heart, we continue our journey down the well trodden lane of lyrics tinged with sadness and regret. Another song that somehow comes off sounding rather flat and not offering much to the album as a whole. En Dans, En Kyss sees Kikki getting altogether more rockier with punchier vocals and a more daring sound. The electric guitars and horn section make for a song that adds a bit of diversity to the album. Another foot tapper. The only things that drags this track down is the rather bombastic ending. Ringarna på Vattnet is another duet between Kikki and Sulo, this time seeing them enter ballad mode, as they sing of falling down hard and bridges being burnt. Although the lyrics sound quite trite at times, there is nevertheless something endearing about the song, with an above average melody.
Let This Light Shine on Forever brings the album to a close with a hands-in-the-air number. Pleasant enough to listen to, although pretty standard country fare giving the listener no suprisers. Her vocals here however are among the best on the album.
On the whole, Kikki should be applauded for attempting to try something new, although had she dared to take a few more risks and chosen some other tracks with a harder sound instead of some of the weaker material, it would have lifted the album to no end. As it stands, Första Dagen På Resten av Mitt Liv is a fairly bog standard, colour-by-numbers country album, fine enough to have on as background music as there is little here to stimulate you. Will no doubt sell by the shed load, but can hardly be called a quality
album. 
Links