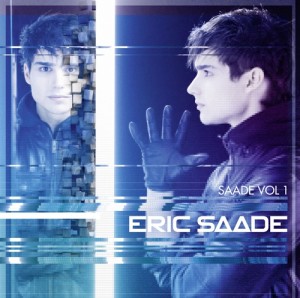 Poor Eric Saade. He came so enticingly close to representing Sweden last year with Manboy. The subsuquent release of his album Masquerade proved something of a fata morgana for his career, as the next single to be lifted off the album did nothing at all, hardly bothering the lower reaches of the charts.
All that is set to change, and it looks however as if young Eric's time has come. Well, not entirely down to luck, of course, but a lot of hard work and naturally heaps of talent. His album Saade Vol. 1 has to be one of the most eagerly anticipated releases in Sweden this year following his triumphant third place with Popular at the Eurovision Song Contest.
The album opens with a bright and breezy opening in the form of Timeless. The track is a brilliant opener and has everything you could look for in a hit single – radio friendly, just the right sprinkling of magic over a pulsating beat, a killer hook and a most becoming electronica sound. Has all the makings of a massive summer hit. His current single, Hearts in the Air featuring J-Son continues in a similar vein with a sparse, cool production and with yet another uplifting chorus that once you get it inside of your head, there's no shifting it. Eric sings of taking control of his own life, giving off a very positive vibe, that will have hands waving aloft in no time. A very clubby feel to the intro of this one, the song soon launches into an almost robotic rhythm and the rap part of the number is actually listenable!
Next up is Me and my Radio, one of the standout tracks which could have been taken straight from the 80's, with effects reminiscent of Human League or Yazoo. The tune itself is extremely handsome and made for radio. Eric sings of not quite believing the girl he's seeing, telling of his insecurities and how he has only his radio for company. One of the highlights on the album, without a doubt, and which will have you guaranteed reaching for the replay button. We move on to Made of Pop, which takes on an altogether more darker sound, with vocoder intro, taut rhythms before bursting into another big chorus where Eric sings of how he's got it going on and is capable of wooing everyone with his stage show: "You wanted a show, Then you can let go. I can make you hot hot, I am made of pop pop". Popular is the next track on the album, and to be honest compared with the first four tracks sounds slightly dated sound wise – more formulaic and calculated, perhaps a result of the production to make it fit into the Eurovision frame. There's no denying however that the boy can sing and that Popular has a groove that cannot fail to have everyone up dancing. Not personally a fan but can appreciate why others are.
Someone New, is the closest you'll get to a ballad on the album, a slowish paced number with a hint of R&B and mournful lyrics which tell of Eric's ex falling in love with someone else. A great pop number which will have tweenie girls crying over their Eric posters throughout Europe.The strangely titled Killed by a Cop picks up where Hearts in the Air left in terms of sound – the same driving rhythms and aggressive, lethal chorus. The title is rather misleading, as Eric sings here of feeling trapped by love, so in love with somebody who obviously chose to take his feelings for granted. The stuttering hook is a very clever move, making it stick in the listener's mind.
Big Love is the next number, with a similar clubby feel to it, the same kind of rhythm and sound as Popular but with a momentum like a juggernaut that there's just no stopping. On Stupid With You, the backing beats sound like something you'd find on an organ you played with as a kid, but the naivety of the track stops there as Eric delivers yet another solid track, brimming with energy as he sings of how he can't concentrate properly because he's so in awe of the girl he's in love with. Echo is similar in structure to many of the other tracks, swirling backing accompaniment over a punchy beat before launching in to yet another very danceable hook. The echo effect reflecting the title of the song again serves its puropse in making the track stick to you like glue. Still Loving It sees Eric's vocals taking on a tortured air, bearing more than just a passing resemblance to Justin Timberlake. This is the track that perhaps sees Eric unleash his true vocal potential with an altogether harder edge. The album draws to a close with the original Eurovision version of Popular, which really doesn't need commenting on as it was delivered in a much better remix as track number five on the album.
If you loved Popular, then you're going to love his newest album – if you weren't so much a fan of Popular (like me), please give the album a chance and put aside your prejudices. The album will prove to be a very pleasant surprise and you'll be really glad you took the time to get better acquainted with it. Congratulations Eric, you've managed to convert a sceptic and have won this listener over.