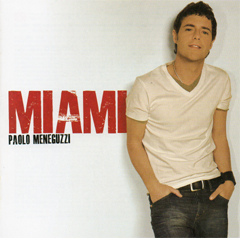 "Could Switzerland be in the running?" was the question on everyone's lips when Paolo Meneguzzi took to the stage in the 2008 Eurovision Song Contest. Cited by many as one of the favourites to win, the collective dissapointment was tangible when he gave a rather shaky performance on the night. He is however at the top with this album.
As we all know, this resulted in the surprise failure of Switzerland to go on to the grand final that year, and accusations of plagiarism couldn't exactly have helped poor Paolo. However, not one to take things lying down, Paolo is back with a brand spanking new offering. But can it measure up against his last effort? His latest offering has a suprising number of upbeat tracks.
Things get off to a flying start with Mi Ami, which plods along at a pleasant enough pace, with a distinctly cheeky vibe. Imprevedibile relies heavily on Electronica and has a seriously infectious hook, which will guaranteed have you tapping your foot along to it. On Noi, the tempo slows down considerably, offering a much more accoustic sound. Federica is shamelessly dancefloor with it's underlying beat, being best classified as Eurodance. Il Tuo Addio strikes me at first as an oriental sounding number, but develops into, in my opinion one of the stand out tracks on the the album.
Arlecchino is a punchy, gutsy number whereas La Voglia is one for those of us who love a "bella canzone italiana" – a deliciously simple italian ballad. On La Mia Missione, Paolo turns in a very convincing vocal performance on a track which oozes class. Vocoder vocals  are used to great effect on the perky little number that is  L'Ombrello Rosso A Pois.
Track listing for Miami:
1. Miami
2. Imprevedibile
3. Noi
4. Federica
5. Il Tuo Addio
6. Arlecchino
7. La Voglia
8. Dolce Amor
9. La Mia Missione
10. Se Per Te
11. E Ancora Ancora Tu
12. Vieni Con Me
13. L'Ombrello Rosso A Pois
14. Vincerò
On the whole, Miami has something to please all tastes. With not a duff track in sight, this is an extremely versatile, great all-round album. As to the question of whether or not Miami is on par with Era Stupendo, I wouldn't hesitate in shouting a resounding "Sì"!
Buy the album at your local CDON or Amazon department:
Links