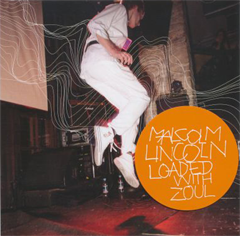 Noone can accuse Malcolm Lincoln of taking the easy road when it comes to musical style. Siren was without doubt one of the most original entries participating in this years contest. The fact that Siren wasn't your immediate bubble gum pop didn't exactly make the entry a fan favourite.
However, credit where it's due, I think ETV should be lauded for such a brave choice. The overall tone of the album is definitelty retro, leaning heavily on the New Wave style of the early 80's. In fact the majority of the tracks on this album wouldn't sound or look out of place on the playlist at a Dexy's Midnight Runners or Soft Cell concert. Malcolm Lincoln manage to strike just the right balance between contemporary and retro styles during the course of the 12 tracks found on the album.
The track listing is as follows:
1.  Loaded With Zoul
2.  Where Did We Loze Our Way?
3.  I Wanna
4.  Wake Me Up
5.  I'm Ztill Ztanding
6.  Du Ya Du Ya Du Ya
7.  Funkzhite
8.  Danz And Wadz Da Cloudz
09. Uu Monica
10. Siren
11. Body of Da Chrizt
12. Found A Way
Highlights on the album include the opening track Loaded With Zoul, a song which to start with sounds somber but gradually builds to become quite "danceable". Wake Me Up with it's pulsating bassline has obvious elements of the Cure's Lovecats in it, which is by no means a bad thing. Siren needs no introduction, which, spooky video aside, is actually a diamond of a cold, hauntingly brooding effort. Found A Way is strangely catchy; am unsure as to whether this is owing some of the strange sound effects used in the production. Body of Da Chrizt is the only track which had me pressing for the skip button.
All in all not a bad effort – I'm well aware that the album as a whole is extremely eclectic and will most definitely not appeal to everybody, but it is fine within its field. Although it's not something I'd listen to every day, I was definitely intrigued enough to play it again. Kooky.
Buy the album at your local CDON or Amazon department:
Links