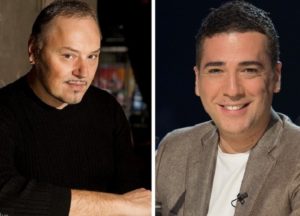 Željko Joksimović who represented Serbia three times and once Bosnia-Hertzegovina in the Eurovision Song Contest, returns to the contest as a composer for Montenegro this time. According to RTCG, him and performer Nenad Knežević are already in the studio working on their song.
Nenad Knežević, known as Knez, and Željko Joksimović revealed through their Facebook profiles that they work together for the song of Montenegro in the upcoming Eurovision Song Contest.
Knez wrote: "I am happy to be in the studio. Finally working on our song. It is an honour for me to represent Montenegro and to have a song composed by Željko Joksimović. So far my impressions are amazing. Working with Željko Joksimović is great. He has tremendous Eurovision experience, but he also knows my sensibility in music well. In other words, Željko will find a way how to get the maximum from me, first of all vocally. This song will have Željko's personal touch, but I will bring more of my energy on this track," Nenad Knežević said and continued: "We are an interesting match of a composer and a performer, that's for sure."
Zeljiko is also very happy for his cooparation with Knez and for composing a song for another Balkan country in the Eurovision Song Contest other than his motherland Serbia, and Bosnia-Hertzegovina which he has already composed for with his previous 4 entries in the contest. He wrote on his facebook profile: "It will be a nice surprise. My song will be different, also a more cheerful and up-tempo song."
About the performer:
Nenad Knežević began his solo career in 1992 and appeared at the Belgrade Pop Festival. Mesam. After that he has released many hits and he is now one of the most famous singers in Montenegro and Serbia. At a press conference on 31 October 2014 in Podgorica, RTCG presented Knez as the Montenegrin entrant for the 2015 contest. Knez previously attempted to represent Montenegro at the Eurovision Song Contest in 2008 where he placed 3rd in an artist selection round. He also tried to represent Serbia and Montenegro in 2004 where he placed 17th in their national final with the song Navika.
Željko Joksimović's Eurovision history: 
When Serbia and Montenegro took part in Eurovision Song Contest for the first time in 2004 they decided their representative through Evropesma 2004, a music festival and contest in Serbia and Montenegro. Željko Joksimović won the contest with Lane Moje, composed by himself, this was his first appearance on the eurovision stage.
In 2006, he composed the Eurovision entry Lejla for Bosnia and Herzegovina, performed by Hari Mata Hari, the song finished in third place, making it Bosnia's best performance in the contest until now.In Eurovision 2008 in his homeland Serbia, he was both hosting the contest as well as taking part as he was composer of the Serbian song Oro which placed 6th in the final, impressively enough, that is his worst result.
Four years later he was back as he sang for Serbia in 2012 the song Nije ljubav stvar which came third in the final and a was huge success in his country and all the region. 2015 will be his fifth attempt in the contest, which he has had so much succes at, but actually never won. 
Montengro qualified for the final of the Eurovision Song Contest for the first time last year. This year Montenegro will compete in the first half of the second semifinal in the 23rd of May 2015 in Vienna.