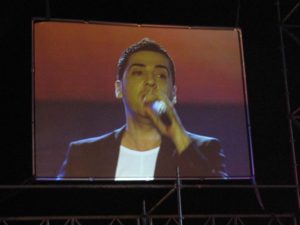 Željko Joksimović, who will participate in the Eurovision Song Contest once again representing Serbia in 2012 will go on a tour at the end of the year singing his biggest hits. Željko Joksimović will perform for his fans in Germany, Croatia, Former Yugoslav Republic of Macedonia, Serbia and Montenegro. 
One of Balkan's most acclaimed stars, Željko Joksimović, has published his agenda for ending the year with six concerts in December and early January.
The tour will start in Germany, where his German fans will welcome him in Munich and also in Pforzheim. Later on, Željko will visit the Croatian city of Karlovac. Days later, the Belgradian voice will perform in Skopje on Christmas eve. At new year's eve, he will perform in Novi Pazar, Serbia to end his tour in Petrovac, Montenegro in early January.
Željko Joksimović's concerts dates and places are as follows:
Munich (Germany) 09/12/2011 InClub München
Pforzheim (Germany) 10/12/2011 Flash Club Lounge
Karlovac (Croatia) 21/12/2011 ŠSD Mladost
Skopje (Former Yugoslav Republic of Macedonia) 24/12/2011 Boris Trajkovski Sports Center
Novi Pazar (Serbia) 31/12/2011 City square
Petrovac (Montenegro) 01/01/2012 Hotel Palas Petrovac
Željko Joksimović's first album was Amajilija (1999), but he has recorded five albums so far plus a live album back in 2008 called Željko Joksimović – Beogradska Arena live and two compilations albums: The best of Željko Joksimović (2003) and Platinum collection (2007). Furthermore, the Serbian artist has composed for various singers such as FYR Macedonia 2004 representative Toše Proeski with the songs Cija si and Nesanica. 
The Serbian singer has been a part of The Eurovision Song Contest several times; as the Serbia and Montenegro's representative in 2004 ending at second position, and as a composer of the Bosnia and Herzegovina's 2006 entry Lejla which came second by Hari Mata Hari singing. He also hosted the Eurovision Song Contest in 2008 together with Jovana Janković, and at the same time he was in a double role as he was also the composer of Oro, the song that represented Serbia being performed by Jelena Tomašević ending at a sixth position.