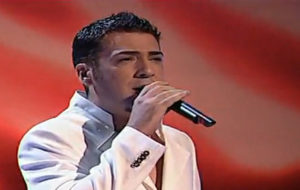 Today, Serbian broadcaster, RTS confirmed the name of the singer who will represent the nation in Baku next May. They are again putting their faith in Željko Joksimović, who will make his fourth appearance in the contest.
He will be totally responsible for the song as he will both write and perform the entry. The Serbian public will be able to hear the song in a special show to be broadcast on an as yet unspecified date next year.
The first song he performed in the contest was also Serbia and Montenegro's first entry in 2004. He finished second with Lane Moje. In 2006, he wrote the Bosnian entry, Lejla for Hari Mata Hari. This song was third in Athens. His most recent attempt was in 2008, when Jelena Tomašević took his song, Oro, to sixth place. That year, the contest was in the Serbian capital, Belgrade, and Željko also played a major role as co-host of the contest.He also wrote Jutro, for Jelena, which came second in the Serbia and Montenegran final in 2005.