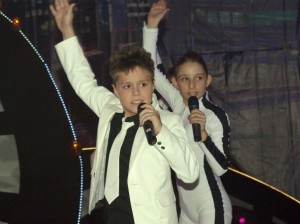 Ivan Ivanov has won the Bulgarian Junior national selection with the song,  Supergeroy (Superhero).  10 acts competed in the final.  The voting was a combination of expert jury and televoting.  One of the presenters was Joanna, from Deep Zone, who represented Bulgaria at the 2008 Eurovision Song Contest.
Ivan is 11 years old and was born in Gorna Oryahovitsa in Bulgaria.  He has already won several song competitions in Bulgaria and abroad.
Here are the 10 songs and acts in the national final –
1. Peshtite kengura Sto stari neshta
2. Daniela Ilieva S magija
3. Shareno gardanche Da dostignem verha
4. Rustam Gubkin-Matejski Moga
5. New Voices Be My Friend
6. Charovni usmivki Parti pesen 
7. Evelin Trakijski Zavistta
8. Dega Chuden san
9. Ivan Ivanov Supergeroy
10. Morski pesechinki Sinja pesen
Bulgaria return to Junior Eurovision after a 3 year break from the competition.
You can see Ivan's performance below.