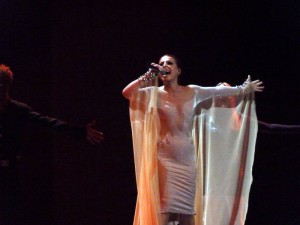 Aurela Gace gave a powerful performance at the 2nd rehearsal Albania.  The background also gave a great effect with red and white lighting showing the spectacular wings of an eagle symbolising the flag and theme of Albania. 
Aurela was joined on stage by 3 backing vocalists (1 male and 2 girls).  She was also joined by a male drummer and a guitarist.
She was wearing a beige flowing dress and her backing vocalists and musicians were dressed in black.  This will most likely be the dress that she wears on the stage for the semi final on 10 May
Aurela's vocals today were a little strained and at times sounded like she was possibly trying too hard.  Hopefully, by the time of the semi final on 10 May she will arrive at the perfect pitch and everyone will then Feel The Passion.