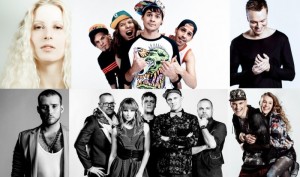 Softengine were the lucky ones to bag the first final ticket on Saturday night in Uuden Musiikin Kilpailu, with Lili Lambert having to make a swift exit. Who will emerge victorious this coming Saturday and just who will be in need of commiseration? Join us and take a look at the form of the last six contenders.
It was an extremely close race in the first qualifying heat of UMK last Saturday, with Softengine pipping Hukka ja Mama at the finishing line by one measly point for the first spot in the final. Did you agree with the outcome? Just who will suffer the same fate this coming Saturday? Well, we're in for a treat regardless, as six new acts take to the stage, showcasing everything from ethnic music, blue eyed soul and punkpop through to more traditional, dance orientated music. To help you make up your mind, we've dug up a little background on the final six contenders of the final qualifying heat in Finland.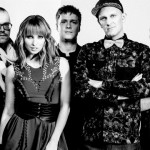 1. MAKEA – Painovoima (Gravity) (Music & lyrics: MAKEA)
Hipsters MAKEA (meaning sweet or cool) are a five piece that have roots in both Helsinki and Turku. It consists of Kadi on vocals, accompanied by Olli, who brings rap to the table. The band line up is completed by Jura, Jussi and Josu on guitar, bass and drums respectively. Their sound is best described as urban pop combining infuences from rock, electronica and hip hop. They are thus far an unfamiliar name to the Finnish public but they're hoping that exposure on UMK will change that and that 2014 is going to be their year.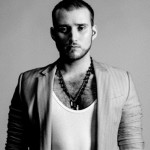 2. Lauri Mikkola – Going down (Music & lyrics: Lauri Mikkola)
24 year old Lauri is from Helsinki and has already had considerable exposure on national TV when he tried his hand at the talent show The Voice to show off his own particular brand of blue eyed soul. Lauri has been musically active since his teens, performing at high school – he also made it all the way to the revered Royal Albert Hall, where he performed as part of a Music for Youth event. The budding artist has written both the lyrics and music to his atmospheric ballad Going Down, which he is extremely proud of. The fact that he both wrote and composed the entry makes it all the more dear to him.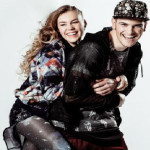 3. Clarissa feat. Josh Standing – Top of the World  (Music: David Neisser / Christian Rabb / Annette Lundell / Joshua Standing / Paul Oxley / Lyrics: Paul Oxley)
23 year old Clarissa hails from the coastal town on Karis and is a newcomer to the Finnish music scene. She had a taste of success last month when she was awarded the title Unsigned Artist of the Year at the Nöjesgalan event. Dance plays an important role in her life and therefore a major part in her stage show. Clarissa has taken her talent to competition level, winning medals in national hip hop dance competitions and even a bronze medal at the European championships. She is also an avid fan of Eurovision, and taking part in the Finnish selection this year is a dream come true for her. She is joined by Englishman Josh Standing on stage for this energetic duet. There are also three Eurovision connections among the lyricists and composers too: Paul Oxley has helped write and compose two national final entries previously: Nina Lassander's Cider Hill from 2010 and Jessica Wolff's Better from 2012. Christian Rabb was part of the team behind Italy's 2012 entry with Nina Zilli, L'amore è Femmina.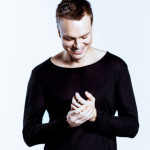 4. Mikko Pohjola – Sängyn reunalla (On the edge of the bed) (Music & lyrics: Mikko Pohjola / Jukka Immonen)
Fresh faced Mikko Pohjola from Oulu made his album debut back in 2011 with Menkää te, minä jään and hasn't looked back since. He's currently working on his follow up album, from which his entry Sängyn reunalla is taken. Mikko worked as a trubadour, singing cover versions but finally decided to take the plunge, all or nothing, and concentrate on performing his own material. Some of you may recognize the name of his co-writer, Jukka Immonen. He was one of the team behind Belgium's 2013 entry Love Kills and has also worked alongside artists such as Margaret Berger and Finnish artist Jenni Vartiainen.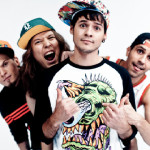 5. Madcraft – Shining Bright  (Music: Tom Nuorivaara / Juho Rinne / Jesse Mäläskä / Otto Uotila / Lyrics: Tom Nuorivaara)
Madcraft is a pop punk band that consists of Tom Nuorivaara on vocals, Otto Uotila on drums and Juho Rinne and Jesse Mäläskä on guitar. The foursome hail from Helsinki, a useful springboard in launching their career, which has taken off somewhat over the last two years, with over 100 gigs and they show no sign of slowing down. Despite their anarchist skaterboy appearance, their music is surprisingly upbeat, with just the right balance of energy, edge and positivity, something the four hope viewers will go for.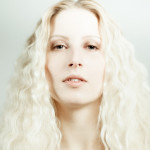 6. Hanna Sky – Hope (Music & lyrics: Hanna Sky)
Behind the stage name of Hanna Sky we find Hanna Seppälä, who hails from Tampere. She isn't a complete newcomer to the music scene, having written and composed for quite a while, and performed hundreds of gigs as part of various music combos. Her stage name however came about last summer when she kick started her career as a solo artist. Through her music, she wishes to tell stories that people can relate to. She has written both music and lyrics to her own entry, Hope, and describes her entry as a desire to explore how hope can be applied to everyday life. Hanna sees her singer-songwriter existence as a way of life and can't wait to bring her sound to the general public through UMK. 
You might also like to read: