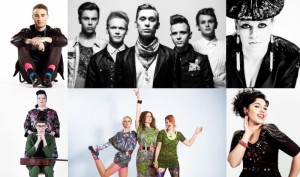 Viewers have already been given a brief glimpse of the first six acts fighting it out to get to the top of the pile in this year's Uuden Musiikin Kilpailu. The first of two semi finals will take place on the 11th of January and so we'd like to give you the opportunity to get to know the six hopefuls a little better.
Having already performed for the four jurors, the pressure is on for the first six contenders in this year's Finnish selection, Uuden Musiikin Kilpailu as more serious matters are about to get underway. They might have gotten past the discerning jury thus far, but will viewers agree? There is a wide range of musical genres on show here, so it's anyone's bet as to just who will woo viewers and win a place in the final on the 1st of February or who will live on to fight another day in the second chance round, on the 25th of January.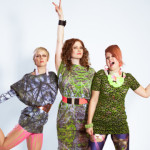 1. MIAU – GOD/DRUG (Music: Anu Kaukola / Lyrics: Henna Juvonen / Anu Kaukola)
MIAU are a trio of three fun loving girls based in Helsinki but originally from Kuopio. Anu Kaukalo, Henna Juvonen and Susanna Tikkanen play the drums, guitar and bass/keyboards respectively, as well as sharing vocals. The threesome enjoy the challenges that making music gives, and make quite the effort in the visual presentation of their work. With their music best being described as indierock, their career thus far has been ticking over very nicely indeed. They made quite a splash at the Flow music festival last year, and their song Nightwalkers has already received a fair amount of airplay. Taking pride in their cooky image, the girls see participation in this year's UMK as the next logical step on the ladder to further their career and gain more exposure.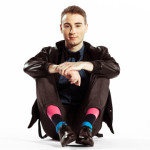 2. Dennis Fagerström – My Little Honey Bee  (Music: Dennis Fagerström / Michael James Down / Niklas Hast / Andreas Anastasiou / Primoz Poglajen / Lyrics: Dennis Fagerström / Michael James Down)
Helsinki resident and boy next door Dennis Fagerström made quite a name for himself when, just like last year's Finnish entrant Krista Siegfrids, he took part in the television talent show The Voice of Finland in 2013. His romantic interpretations and performances charmed the socks off the public, taking him all the way to the semi final stages. Dennis has dabbled in music since early childhood in Hanko, citing Robbie Williams and Michael Bublé as sources of inspiration. He has played the saxophone since the age of eight, but singing came a little later. Some may recognize a Eurovision connection with one of the team behind Dennis' entry: Andreas Anastasiou already has two Eurovision entries to his name, the Cypriot entry from 2011, San Aggelos s'agapisa and last year's Belgian entry Love Kills.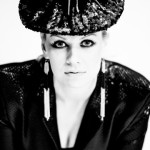 3. Lili Lambert – Let Me Take You There (Music : Lili Lambert / Joonas Kaikko / Lasse Piirainen / Lyrics: Lili Lambert)
33 year old Lili Lambert, otherwise known as Jenni Isoviita also has a background from The Voice of Finland, where she performed to viewers under the name Jepa. She made it through to the live rounds as part of the team Elastinen. Lili was bitten by the singing bug already as a child, when she performed in church from an early age while growing up in Southern Finland both as member of a choir and as a soloist. It's from these early experiences that her love for soul and gospel grew. It comes therefore as no surprise that she cites R'n'B divas Brandy and Mariah Carey as well as Chaka Khan and Usher as some of her artists who have influenced her sound. Lili has gained invaluable experience by working with household names such as Jenni Vartiainen, Chisu and 2002 Finnish entrant Laura Voutilainen.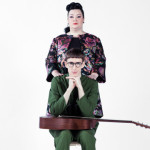 4. Hukka ja Mama – Sejla (Music & lyrics: Lasse Hukka / Martina Myllylä / Simo Saukkola)
Hukka ja Mama is a duo consisting of Lasse Hukka and Martina Myllylä, who have apparently known each other since childhood. They grew up in Vääksy, north of Lahti but are now based in Helsinki. The two consider themselves to be dreamers, something that brought them together as children. They both create music in order to express their feelings; their music is a blend of the sweet and childish simplicity but with a touch of melancholy for good measure.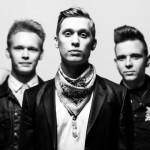 5. Softengine – Something Better (Music: Topi Latukka / Lyrics: Henri Oskár / Topi Latukka)
Softengine are a five piece band consisting of Topi Latukka on guitar and vocals, Eero Keskinen on bass, Henri Oskár on keyboards and percussion, Ossi Mäkelä on synths and guitar and Tuomo Alarinta on drums. The feisty five all hail from Seinäjoki and cite acts such as Coldplay and Muse as their primarly influences, something that is reflected in their brand of music which is best described as alternative rock with a dash of indie for good measure. Their debut album was released in 2012, they've already taken part in numerous music competitions with admirable results and have played around Finland. They're currently working on new material.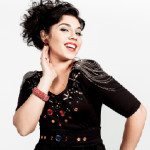 6. Jasmin Michaela – Kertakäyttösydän (Throwaway Heart) (Music: Mikko Kierikki / Jasmin Michaela / Jutta Annala / Lyrics: Johanna Viksten)
25 year old Jasmin Michaela Rantanen is a singer from Åbo who has a passion for latino rhythms and considers it only natural that her entry should reflect her musical preferences, filled with beats and rhythms. According to the singer, latino music is something Finns are in dire need of, like a dose of vitamin D due to the long winters. The fiery artist already is the daughter of singer Kristiina Mäki and had a brush with fame when taking part in the talent show Idols in 2012. With her entry Kertakäyttösydän (Throwaway Heart) she hopes to reach out to a wider audience with her positive energy in the form of rhythm.
You might also like to read: