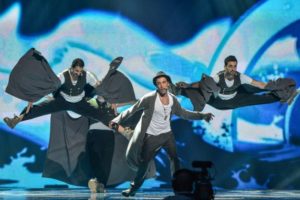 Can Bonomo has proven that he deserves a place in the final. Several changes have been made in an attempt to improve the catastrophic result from Düsseldorf 2011. The most important change is that the colours of the outfit will be white and grey, with capes featuring as an important element for the performance.
The Turks really would love to be back to the final. This is what they want to let the audience know after seeing their second rehearsal. The first difference between the first and the second rehearsal, is the dancers as have changed their outfit.  At the second rehearsal, dancers combine black and white colours using a white shirt, black waistcoat, black trousers and a grey cape. The third difference from the first rehearsal outfits, is that Can Bonomo will wear a grey open jacket wearing a white shirt like the dancers.
If we take a look at the choreography, we will see that the Turkish dancers do smart movements with their capes, movements that create an artistic dance that suits with the melody. The most interesting moment, is when dancers create a ship with capes where Can Bonomo performs inside as the captain that will try to make Turkey arrive to the harbour of the final. During the last half minute of the performance, the dancers repeat the visual attractive movements with capes for creating a special atmosphere.  At the end of the performance, the dancers surround Can Bonomo.