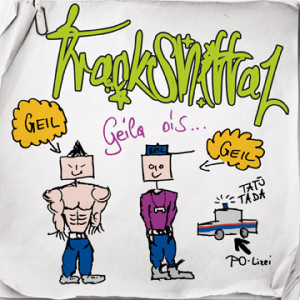 Although Lukas and Manuel from Trackshittaz didn't succeed in getting the whole of Europe to Woki mit deim Popo, their entry still kept them laughing all the way to the bank, providing them with a monster hit in Austria. They hope to achieve similar success with their newest release, Geila Ois.
Since bursting onto the Austrian music scene back in 2010 with their song Oida Taunz! (Dance Dude), and coming second in the national final with the same song in 2011, Trackshittaz has enjoyed enormous popularity, proving that Austria has more to offer than just DJ Ötzi. The duo are back with a brand new summer hit and judging from fan reactions on sites such as Youtube, Trackshittaz are practically guaranteed just as big a hit with their latest single. Geila Ois… was released as a download single on the 13th of July, with a first – a self designed CD cover! 
Geila Ois… (Cooler Than…) is the third single to be lifted from their album Zruck zu de Ruabm (Back to the Roots), which has already shifted enough units to land them a gold record in their native Austria. The track has been given a release both as a digital download and a CD single, with a very tongue in cheek video that sees the twosome seemingly struggling to maintain their popularity. Their newest effort is in keeping with their previous material – a concoction of infectious beats, a danceable tune, rapping that isn't too hard on the ear and an altogether very contemporary sound.
Lukas and Manuel will be promoting their new single with numerous appearances throughout the summer over the whole of Austria. Dates and places confirmed thus far are July the 28th at Bad Schallerbach, the 10th of August in Katsdorf, 17th of August in Salzburg as well as appearances in Vienna at the Stadion Center and the U4 on the 1st and 20th of September respectively.
The official music video from Trackshittaz for Geila Ois… can be seen below: