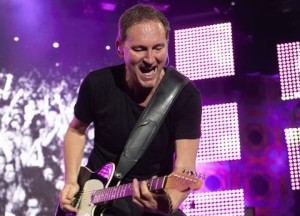 The new album from Tomas Ledin, who represented Sweden at the 1980 Eurovision Song Contest, reached the stores today. It is release number 28 from the well experienced singer who started his career in the early '70's. A summer tour will start in the beginning of July and includes concerts in three Nordic countries.
When Tomas Ledin won the Swedish national final in 1980 and represented the country in the Eurovision Song Contest, he was already an established name with several albums behind him. He was a popular as solo artist and songwriter, but also appeared as a backing singer for ABBA on their 1979-80 tour and the Super Trouper video. Just Nu came 10th at the Eurovision Song Contest won by Johnny Logan, who later said that he was quite surprised that he managed to beat Ledin whom all the attention was on at the beginning of the contest. Despite the lack of success at the contest held in The Hague, The Netherlands, Just Nu became a big hit in Scandinavia and the English version, Right Now, did well across Europe – in particular in countries like Greece and Portugal.
In 1984 he decided to end his career and concentrate on being a producer instead. Three years later he was however back with the album Down On The Pleasure Avenue. It didn't sell well and he once again thought about quitting his career. The 1990 album, Tillfälligheternas spel, changed everything though. It became a massive success and Tomas has ever since been one of the best selling artists in Sweden.
Tomas Ledin is now back with a new album called 500 Dagar Om Året. It is his first album since 2006 and includes 11 tracks. The complete tracklist can be found below. A Nordic tour, which will bring him around in Sweden and to neighbour countries  Finland and Norway, will start on the 3rd of July in Skellefteå and he is currently booked two months ahead. For more information regarding dates, venues and tickets you can visit Tomas Ledin's website. Below you can also see his Eurovision Song Contest performance from 1980 in a video from YouTube.   
Complete tracklist:
1: 500 dagar om året
2: Att inte göra någonting alls
3: Medelklassens okrönta kungar
4: Alldeles för lätt
5: Din vän i alla fall
6: Dyningar
7: Atlantkustens kyliga smekning
8: Vår egen sång
9: Ut på vägarna igen
10: Håll ut
11: Kanske kvällens sista dans
Links