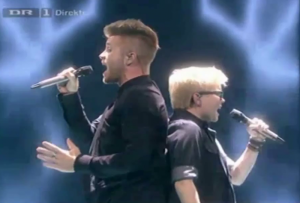 If anyone was in doubt about Tim Schou's performance skills they have to be convinced after last night. In a live TV show him and his 13 year old duet partner gave the viewers a wonderful mix of New Tomorrow in a piano version and A Friend In London's second single Calling A Friend in a house version. 
After three live shows of DR's new entertainment programme Skjulte Stjerner (Hidden Stars) Tim Schou, lead singer of A Friend In London, who came 5th at this years Eurovision Song Contest, has put himself in a position where he is among the absolute top candidates to win the entire show.
Tim's 13 year old duet partner Thomas is a secure boy fully aware of his own talent, but Tim wants to push him into genres he hadn't expected to see himself in.
In first episode Tim and Thomas sang Katy Perry's Fireworks and for the second show they had chosen a mix of The Time Of My Life from the film Dirty Dancing and Justin Bieber's Baby. For the third edition, held last night, each of the mentors had to pick a song from their own repetoire. Tim naturally went for the Eurovision Song Contest entry New Tomorrow, but in a ballad version and then he added the newly released single Calling A Friend in a house version. That was something the ballad loving boy hadn't seen coming. As he puts it: When I think about house I think about headache! Tim was also a bit nervous about if it might be too much for his pupil, but as he said then his job as a mentor was to make Thomas grow, something he can only do if he takes him out of his comfort zone and throws him into different things.
Tomorrow the video for Calling A Friend, a tribute to the band's online friends, will be premiered in its original version. At the same time Thomas, who is the son of Gry, who represented Denmark at the 1983 Eurovision Song Contest with Kloden Drejer, will be performing with the band.
Below you can see the performance from last night's Skjulte Stjerner and see for yourself just why Tim and Thomas are among the top favourites to win.