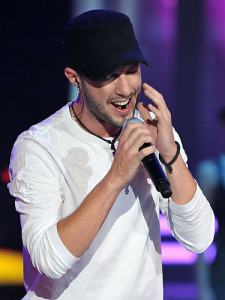 Bosnia-Herzegovina was the last country to take the stage in the Telenor arena in Oslo this afternoon. Thunder & Lightning certainly lived uo to its name when it came to the lighting. It's very similar in style to Slovenia's 2001 entry.
Vukašin is joined by five backing singers on stage. Two male and three female. The backing singers are placed either side of him and move very little.
Vukašin begins the song to the rear of the stage. He then comes to the front. He has an electric guitar strapped to his back. Which he uses for a solo during the instrumental section.
The camera work is good for this one. There are a lot of long shots which capture the great light show really well. The main colours are white and blue. The dry ice is very effective in some shots and turns the blue lights a nice purple colour. Most of the spots used are white light. It's actually quite difficult to look at the stage for this one while in the arena. Anyone who has Photo-sensitive epilepsy will not like this stage show.