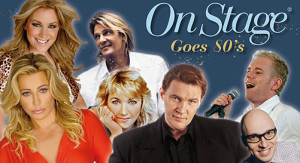 In late November and early December Stockholm, Göteborg and Malmö bring back the 80's in a show called "OnStage goes 80's". Johnny Logan, Jessica Andersson and Tommy Nilsson will be joined by other well known names in an attempt to give the audience a great evening.
To Eurovision Song Contest fans Johnny Logan needs no introduction as he won the contest twice as a singer and one more as a songwriter. To fans of Melodifestivalen, the Swedish national selection, Jessica Andersson doesn't need one either. She has participated in the Swedish final several times and won it once, in 2003 where she, as a part of the duo Fame, came fifth with the song Give Me Your Love. Tommy Nilsson also did well when he represented his country back in 1989 and ended fourth with En Dag.
Johnny, Jessica and Tommy will go on stage together with Taylor Dayne, Peter Johansson and Suzzie Tapper, where they and host Lasse Karlsson will guide the audience through four evenings full of 1980's music. The shows will take place in Scandinavium, Göteborg where the 1985 Eurovision Song Contest was held, at the 26th and 27th of November this year. On the 3rd of December it is time for Globen, Stockholm where the 2000 Eurovision Song Contest  was held. The day after, the 4th of December the mini tour will end in yet another former Eurovision city, Malmö who hosted the Contest in 1992 Contest.
Below you can see the video's of Jesscia Andersson's Eurovision Song Contest entry from 2003, Tommy Nilsson's from 1989 and Johnny Logan's second victory from 1987.