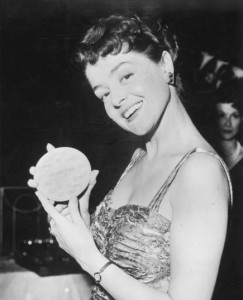 On April 8 former Eurovision Song Contest winner Teddy Scholten passed away at the age of 83. Scholten suffered a brief ilness and is the fifth winner of the contest who died after Andre Claveau, Jean-Claude Pascal, Grethe Ingmann and Frida Boccara.
Teddy van Swieteren was born on May 11, 1926 in Rijswijk, The Netherlands. She became an actress very soon and in the 1940's she met Henk Scholten during a gig. They fell in love and got married in 1947. Together they performed songs as the duo Scholten & Van 't Zelfde.
In 1959 the NTS asked Scholten to take part in the Nationaal Songfestival. She sang the songs De regen and Een beetje. The latter won the contest and so she went to Cannes to participate in the Eurovision Song Contest. With 21 points Scholten won the contest and became a true star. Later she brought out the song in French, German and Italian. She also sang English and Swedish versions of Een beetje on various radio stations, but it was never released officially.
In the fifties and sixties Scholten was a star on Dutch television. She became well-known from her performances in De Snip & Snap revue. Scholten never participated again in the Eurovision Song Contest but she stayed involved. She was the host of the Nationaal Songfestival in 1965 and 1966, commented in both years for the NTS and was a jury member in various edtion of the Dutch selection rounds.
In 1975 she stopped her singing career and became the public relations officer for the Dutch Red Cross. In 1999 she told to journalists in the NPS radio program Uit het nieuws she has a hate-love relationship with the Eurovision Song Contest. Scholten always got confronted with her Eurovision win in 1959, but did so much more in her career.