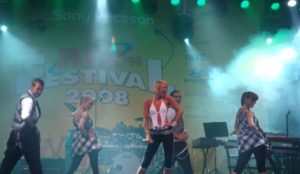 It was a rainy night with dark heavy clouds hanging above Kungstorget in Gothenburg, Sweden, when Rix fm festival had its annual stop there. Invited to entertain the Gothenburg audience was Kate Ryan, Måns Zelmerlöv and E-type among others.
Rix fm is a radio station in Sweden, which every summer invites famous Swedish artists to go out on tour all over Sweden. They call the tour Rix fm festival. Up until the first artist was about to get on stage, there had been dry weather, but when Amy Diamond got on stage the rain was pouring down. She performed her hit song 'Shooting Star' as well as her entry from this years Melodifestivalen, 'Thank You'. As the rain was pouring down, the audience hid under umbrellas and weren't that keen to show any enthusiasm during her performance. But the people standing next to me seemed to enjoy her performence in spite of the rain.
Next up was Sonja Aldén. She participated in Melodifestivalen 2007 with the song 'För att du finns'. At Rix fm festival she sang 'Nån som du', which is the first single from her new album, which is released in September 2008. Her next song was 'För att du finns', and as soon as Sonja began to sing, like some kind of miracle, the rain stopped.
The twin brothers Magnus and Henrik Rongedal have a lot of experience of the music business. They have been backing singers for several Swedish artists and have been involved in several Swedish TV shows such as Melodifestivalen and Så ska det låta. They sang their new hit song 'Who Do You Think You're Fooling' and their song from Melodifestivalen 2008, 'Just a Minute'. As always, they are energetic and the audience seemed to like their performance.
Linda Bengtzing revealed the secret why the people in Gothenburg cope with the rainy weather so well, they wear rubber boots! Because of that, she had decided it would be a good idea to wear red rubber boots on stage. As with the artists that had been performing before her, she sang two songs. The first one was her new song 'Sanningen' and the second one was her entry from Melodifestivalen 2008, 'Hur svårt kan det va?'
E-type was one of two artists that didn't sing any of his Melodifestivalen entry's (I will get back to the other ones later). Instead he sang two of his hit songs, 'This Is the Way' and a new song, 'True Believer'.
The official Europride song, 'Bells of Freedom' was written and performed by BWO during the Pride week in Stockholm. On Rix fm festival in Gothenburg they sang both 'Bells of Freedom' and 'Lay Your Love on Me' from Melodifestivalen 2008.
Måns Zelmerlövs breakthrough was when he participated in Swedish Idol 2005. In 2007 he participated in Melodifestivalen with the song 'Cara Mia' that was a huge hit in Sweden that year. He sang 'Brother o Brother' from his debut album 'Stand by for', and of course 'Cara Mia'. There where no question why many of the girls in the audience were at Kungstorget, they seemed very exited during his performance.
Kate Ryan has had a successful career since her breakthrough in 2001. It was quite obvious that she was one of the main reasons why people were there. She sang three of her hit songs 'Désenchantée', 'Voyage Voyage' and 'Ella Elle L'a'. She was the second artist that didn't sing her entry from Melodifestivalen/Eurovision Song Contest.
Last but not least was Ola. Just like Måns Zelmerlöv, he participated in Swedish Idol 2005. Since then he has had several hit songs and in 2008, he participated in Melodifestivalen for the first time with the song 'Love in Stereo'. But like E-type and Kate Ryan, he chose not to sing his song from Melodifestivalen. Instead, he sang two songs from his latest album, 'Feelgood' and 'Natalie'.
To see photos from the concert, please visit our gallery by following the link bellow.
Links