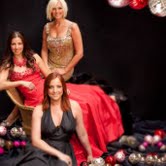 St. Lucias Day is one of the most popular and beloved celebrations throughout Scandinavia and the Baltics. The day marks the introduction to Advent, and Swedish broadcaster SVT have decided to pull out all the stops this year, bringing us a spectacular programme.
The day is normally observed by a candle bearing procession of children dressed in white robes, a girl is chosen to lead the parade portaying Lucia, wearing a crown of candles on her head. The candles symbolize the fire that refused to take the life of St. Lucia. Special Lucia songs are sung during the procession, and special saffron buns called "Lussekatter" are handed out.
The actual day itself has significant religious connotations, and is one of the few religious days to be observed in Scandinavia. SVT usually celebrate the day in a spectacular way, and this year will be no exception. Fans of Eurovision and Melodifestivalen are in for a rare treat with Christmas coming early this year, when SVT bring to us not one but four Melodifestivalen favourites!
A TV special is to be filmed at Kungholms Church, Stockholm, to be shown on the 13th December at 07:00, featuring a very special line up of guests with none other than Shirley Clamp, Sonja Aldén, Sanna Nielsen and Darin, as well as 90 students from the Södra Latins College of Music. The four artists have consolidated their positions as some of the most popular and respected artists in Sweden with numerous participations at the Melodifestivalen, including Sanna's Empty Room, Vågar Du, Vågar Jag, Sonja's För Att Du Finns and Etymon, Shirley's Min Kärlek, Att Älska Dig, Mr. Memory as well as Darin's entry You're Out Of My Life.
Last year the female trio combined their talents to create an exceptional concert, presenting the audience with their favourite Christmas songs. Judging by the success of the show, this year's TV special will be equally as atmospheric, providing us with inspiration in the run up to Christmas. So, set your alarm clocks for 07:00 on the 13th December – you won't regret it!