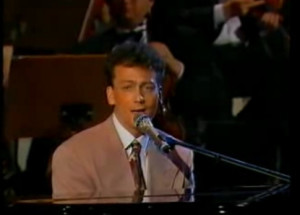 The few details that has sneaked out regarding the death of Anders Frandsen, who represented Denmark at the 1991 Eurovision Song Contest, are just creating more speculations about what actually happened when he on the 1st of January was found dead, only 51 years old. Was he sick? Was it an accident? Did he kill himself?
We know that Anders Frandsen was found dead on the evening of the 1st of January this year, but aside from that everything else is still a big mystery and now his closest friends are asking for answers.
The police have said that he was found under circumstances that requires them to take a closer look, but that they do not see any evidence of a crime to have taken place. This normally means suicide. His friends however can't get it to match that the friend they knew as a happy guy who had so much to look forward to would indeed kill himself. But as they knew nothing about him being sick this appears wrong as well.
According to Danish tabloid newspaper, BT, a barbecue was found in his bedroom where he himself was found dead, but this has not been confirmed by the police. It however adds to the speculations about it being a suicide – what goes against it is that he, according to another tabloid newspaper, EkstraBladet, had recorded a happy message on his answering machine wishing everyone a happy new year from Uncle A.
His family has so far decided not to reveal anything about what happend and as the police are not saying anything either the speculations will continue for a bit longer. One of his closest friends, entertainer, Anders Bircow encourage the family to speak out: "It would give comfort knowing why he is not here anymore. But no matter if it is his own or the family's wish that there should not be talked about it, we have to respect it – if, if, if, it was suicide and he left a note about nothing being revealed then that is the way it is, but I still have the wish that the family will come with an official announcement in regards to the big fanscare that has turned up and to kill all the rumours". 
Personally Anders Bircow however find it difficult to believe that his friend would have killed himself: "He saw positive at the future. When my wife visited him in relation to the recording of the video message he sent me at my 60 year birthday (in mid December, ED.) they talked for two and a half hour. He told about new designs and told that he was negotiating with some companies. He was happy and talked about a new driver (A golf stick, ED.) he had gotten for his birthday and was looking forward to use. He was good old Frandsen".
Anders Bircow adds that he was last in contact with his friend on the day of New Years Eve where they talked about ordinary things and everything appeared fine.
Songwriter Michael Elo who wrote his 1991 Eurovision Song Contest entry, Lige Der Hvor Hjertet Slår, was also among the closest friends. He also find it difficult to believe that Anders Frandsen has committed suicide: "As I know Anders it would surprise me a lot if it is suicide. But I don't want to put heaven and earth in movement to find out. I am not that curious". 
Michael says that they often saw each other several times a week and that he will be missing him a lot. The same will Anders Bircow who also adds that there will now be a party in heaven: "God will have so much fun. And Virgin Mary will have to watch out!". 
In case it was suicide Søren Poppe from Rollo & King who came second at the 2001 Eurovision Song Contest representing Denmark on homefield with the song Never Ever Let You Go however understands a bit of the possible background: I can of course only speak on behalf of myself, but I can understand the feelings Anders Frandsen and other Grand Prix participants maybe have had". Søren describes the media attention and the screaming girls outside his house as a thing that was extremely overwhelming as it came sudden – and just as sudden disappeared again: "I took it extremely personal and thought it was me there was something wrong with. It also affected the music I tried to do afterwards. I just hadn't seen that people change taste that fast – and that there will be new stars taking the attention".
Søren admits that he got hit by a depression and that it took him 5 years to recover, but that he is now feeling better: "I have really been down, but now I can see from the outside and I am not depended on the attention. It happens that people recognize me, which I think is fun. You can see that some of them thinks ´what the heck is he doing there, he should be on a stage and sing' (Søren works today as a personal trainer in a fitness center, ED.) and I do sing from time to time. But now it is just a hobby".
EuroVisionary's coverage of the death of Anders Frandsen:
Danes in shock about the death of Anders Frandsen – Famous people in queue to show sorrow 
Anders Frandsen died at the age of 51 on January 1st – Denmark in shock after another New Year's death
Anders Frandsen was cremated yesterday where only the very closest family participated.