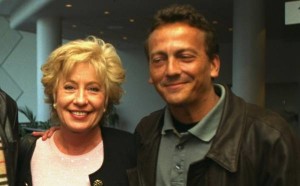 The list of famous people expressing their sorrow in relation to the death of Anders Frandsen, only 51 years old, is getting quite long. Some describe him as being lonely, others as a happy person who loved sun and golfing and was popular among the females, but they are all in shock. 
It came as a shock to most Danes when the news broke Tuesday about the death of Anders Frandsen, who represented Denmark at the 1991 Eurovision Song Contest with the song Lige Der Hvor Hjertet Slår.
Since that the medias have been topping each other with bringing statements from well known Danes expressing how sad they were to hear the news and how much Anders Frandsen meant to them. Most descripe him as a happy person always in a good mood, but others as a very private one who sticked much to himself. This last mathes a bit with the neighbours saying that he didn't socialise a lot and also that he appeared a bit sad and depressed lately.
Former colleague, TV host Camilla Miehe Renard, who was host on the Danish final in 1991 when Anders Frandsen won says: "We were really good colleagues for some years and still called each other from time to time. It is so sad that he is gone. I got a shock when I heard it". Camilla tells that Anders, who she talked to a couple of times in 2001, was fun, full of humour and lovely, but she adds that he had a different side to him: "I am not so sure that he was happy. He was lonely. As I saw him he was fighting with him own lonelyness. If he saw how many are sad about his death, he would be surprised". 
Entertainer and friend Anders Bircow does not reconise that Anders should have been lonely: "Frandsen had a lot of friends. All through his life he was very interested in other people. He was very empahtic". He also tells the story about Anders being popular with the women: "He was a womanizer. We were many who were jealous when we saw how popular he was. When some were seeing a woman and Anders Frandsen was jealous we knew it was a good catch. He knew about quality in many aspects". Bircow was quite close to Anders and as late as in December his wife visiteted him for two and half hour in relation to a video message Frandsen wanted to make as Bircow turned 60 and he was unable to be there at the party due to him being in South Africa. About their friendship the entertainer says: "We were really good friends. We were actually best friends. We have played golf together, performed together, had dinners together and laughed together. We have laughed, laughed and laughed together. My God, how much have we laughed together".   
Anne Herdorf, who represented Denmark at the Eurovision Song Contest in 1987 with the song En Lille Melodi, hosted the Danish final in 1992 together with Anders and have also since worked together with him at other occations is also shocked: "It comes as a shock to me. He was a real charmer and I knew Anders as a festive person. Always with something ekstra to give". she continues: "We toured together – also with Gry Johansen (Denmark 1983, ED.) – and we laughed a lot. There was always a party when you were with him".  
Birthe Kjær, who came third for Denmark at the Eurovision Song Contest in 1989 with Vi Maler Byen Rød competed with Anders Frandsen at the 1991 Danish final, the Dansk Melodi Grand Prix, have since met him at a few occasions. Last time was in the summer of 2011 in Skagen. She says that she did not know him that much: "It was like hi and how are you when we met, but he was always in a good mood". About his Eurovision entry she says: "It was refreshing that a quiet and such beautiful song could win. It was a shame that he didn't release a CD after he had won (The Danish final). It is a shame that he did not take the chance as he could have created a big career in the music industry". She adds that "it is horrible when such a young man dies. It is sad and it always shocks you to hear that about such a young man".
Former national final host – and Eurovision commentator Jørgen De Mylius also would have wanted Anders to due more with his music career: "He was a great guy with a fantastic voice. He should just have used it a bit better as he started making more TV than music". Jørgen met Anders first time the year after his national final win in relation to a Baltic Sea competition. It was his impression than Anders had not quite been able to let go of the result internationally: "It seemed like he was still very disapointed at the bad result at the Eurovision Song Contest".    
Danish Melodi Grand Prix king Keld Heick is in shock as well: "I am so sad to hear this. It is sad, he was not at all old enough". Just like Birthe Kjær he also adresses the fact that Anders did not use his potential to the full: "He was very talentet. I think it was a shame for Danish pop that he didn't do more with the music". Keld last met Anders Frandsen at the Danish Melodi Grand Prix final in 2005 where Anders took part in a medley: "It was a lot of fun when we met in 2005. We talked about meeting again, but as often seen we never actually got around to it. I can only be even more sad about that now".
Business man and former football boss Flemming Østergaard, in medias just known as Don Ø, was in total disbelieve when he was informed about the death of Anders Frandsen by a journalist: "What do you say? Is Anders Dead? – My God, how sad I am to hear this". Anders Frandsen and Flemming Østergaard were considered close friends who saw each other privately until Anders suddenly moved to Thailand in 2007. Flemming does not know why, which he explains with Anders being a very private person. They often played golf together and Flemming adds that Anders loved sun and golfing and didn't like the colder Danish clima. Also he describe Anders Frandsen as a happy person: "He was a happy and sincere guy, whom I can only say the best about". A cause of deatch have not yet been published, but Flemming says that it was not his impression that Anders was sick.  
Former professionel football player Preben Elkjær also knew Anders Frandsen from the golf lanes: "I am of course shocked and a bit shaky. I knew him really well so I am naturally sad, but aside from that I have no comments". 
TV host Jes Dorph-Petersen lived near Anders Frandsen and often they would meet on the streets: "When we met we always fell in talk about products to have butter in and life as such". Jes Dorph continues: "He loved good wines, warmth, holidays and often talked about Thailand. He never said no to the pleasures of life". Jes also goes into Anders' private life where he was popular among the females: "He was the happy bachelor of the city". They last met three weeks ago.