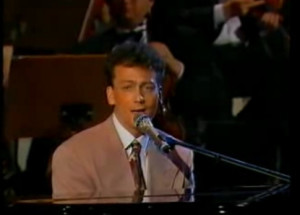 Denmark's 1991 Eurovision Song Contest participant has passed away shortly after his 51 year birthday. It has not yet been published how Anders Frandsen died, but as he was quite young speculations have started. Police says there is nothing indicating a crime.
The message about his death came from songwriter and friend Michael Elo, who wrote his 1991 Eurovision Song Contest entry Lige Der Hvor Hjertet Slår and also was on stage in the choir. Michael says that he was informed about it Monday and that it feels like he has lost a brother: "He was such a good playmate, we always had a party when we were together. We had such an older brother /little brother relationship. I am 10 years older than him. When we were music it was always play and fun, but not so much music".
Anders Frandsen hasn't been doing that much music since he represented Denmark at the Eurovision Song Contest at came 19th with only 8 points, despite the Danes thinking that they had chosen a song with a big potential to win it all. As he returned home from Rome he was disapointed and more or less threw himself into things not related to music – aside from hosting the 1992 Danish final together with Anne Cathrine Herdorf, who represented Denmark at the 1987 Eurovision Song Contest. Since that he has been hosting several other TV shows and had minor roles in a few Danish TV series.
To most Danes he however became known as a designer who designed things like a butter box etc. In 2007 he however sold his design company and left the country to move to Thailand. He moved back to Denmark before his death, but it is unknown if there is a relation to this. His neighbours says that he looked slim and healthy, but appeared sad and depressed and kept to himself. Several of them says that they were not even aware that they had a Grand Prix winner as a neighbour despite him having lived there for about a year.
The police says that Anders Frandsen was found dead by friends who wanted to visit him on Sunday the 1st of January and adds that there is nothing suspecious about his death, in other words: They do not suspect that a crime took place.
Last year the Danes woke up after New Years night to the news about their 1981 Eurovision Song Contest participant, Flemming Bamse Jørgensen, having died on the same night, only 63 years old.
Below you can see Anders Frandsen singing his Lige Der Hvor Hjertet Slår – this performance is from the Dansk Melodi Grand Prix.