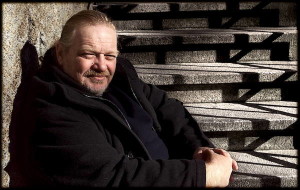 It has just been announced that Flemming "Bamse" Jørgensen, who represented Denmark at the 1980 Eurovision Song Contest, died of a heart attack in the night. The lead singer of Bamses Venner was often fighting with the weight, which might have led to his early death only 63 years old.
Flemming Jørgensen founded Bamses Venner in the early '70's and with more than 25 albums released they have always had some success in Denmark, where many people could associated themselves with the overweight lead singer, who always appeared with a smile on his face and had time for a little chat with the fans.
In 1980 he and his band represented Denmark at the 1980 Eurovision Song Contest with the song Tænker Altid På Dig. The song finished 14th, but their popularity in Denmark was not affected as this was just one of many songs. In 2009 Flemming "Bamse" Jørgensen won a TV show titled All Stars where a group of famous found and instructed a choir through the shows where the TV viewers voted one of the choirs out in each episode.
Through his entire life "Bamse" was a large man, although he had managed to lose some weight in recent years. But shortly past midnight on this New Year 's Eve his heart gave up. He died at the age of 63.
It is being mentioned today that his family is planning a small funeral just for the family.
Below you can see and hear his Eurovision Song Contest entry and below that one of his many hits in Denmark.