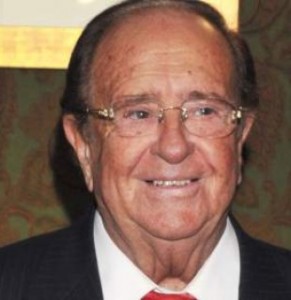 Quédate Conmigo (Stay With Me), the Spanish entry of this year's Eurovision Song Contest is what Spain's Eurovision fans claim to be José Luis Uribarri looking at heaven, as the Spanish commentator of many years finally passed away.
José Luis Uribarri succumbed to the massive cerebral haemorrage that he suffered on Wednesday the 18th of July. After five days fighting for his life in the intensive care unit at the University Hospital Montepríncipe, his relatives confirmed the outcome that they sadly knew was impossible to change. The sudden fatality shocked the whole Eurovision family in and even outside the country that used to listen to Uribarri providing excitement with his commentary during his 18 years with the Eurovision Song Contest. Last Wednesday, the 18th of July, the Eurovision community was shaken to the core and every social network was bombarded by messages asking "what happened?", "why him?" and offering his family support.
Susana Uribarri, one of the daughters of the man known as The Spanish Voice of Eurovision left Miami to return to Madrid, when she learned of her father's condition. After visiting her father at hospital upon her arrival in Madrid, Ms Urbarri commented with her sister to the Spanish press "My father is in a critical status, we are not optimistic about the outcome. He is in hospital for a month, yesterday he suffered a cerebrovascular stroke. We did not know that he had been admitted to hospital, everything happened so fast". Moreover, she shared one of the saddest moments of her life with Twitter users. In one of her messages, she commented on the day after meeting her father for the first time since his hospitalization "It has been a day (that I have never wanted to expreience), thank you to all my friends and the huge amount of people that love my father". After some days hoping for a recovery, she wrote other comments showing gratitude for the support that she received from those who knew her father.
The sad news of the passing of the Spanish Mr. Eurovision has travelled far, even as far as Cyprus, where we were fortunate enough to speak with Christina Christofi, who performed together with Louis Panagiotou at the Junior Eurovision Song Contest 2006 and was the Cypriot votes spokesperson at the Junior Eurovision Song Contest in 2008. Christofi said : "As I also was a part of the Eurovision Song Contest as a singer and spokesperson these are experiences that you never forget and it's important to have people that support this kind of contest and that's what Mr Uribarri did. It's very sad and I am very sorry to hear that Mr. Uribarri has passed away as he has been part of Eurovision for many years and has achieved great success at Eurovision, first and foremost with the songs Vivo Cantando and Algo Pequeñito. People will never forget him he will stay in our minds and go down in history as the voice of Eurovision as he was known to many."
José Luis Uribarri had an extensive and varied career, including two decades dedicated to the Eurovision Song Contest. He was Eurovision commentator for Televisión Española in 1969, from 1974-1976, 1992-2003, 2008 and 2010. Uribarri also has experience related to Eurovision either working with or hosting national finals like in 2000, 2001 and also the national final of 1971, hosting the programme Pasaporte a Dublín. His career began in Televisión Española back in 1958. During the course of his illustrious career Uribarri has received awards such as Antena de Oro in 1962 and Ondas award in 1966. On the video below you can see Uribarri announcing that he will comment the 2010 Eurovision Song Contest.
The whole team at Eurovisionary.com sends their condolences to Uribarri's family.