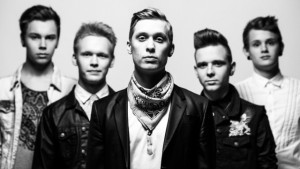 Hanna Sky and Softengine were early contenders, advancing straight to the final of Uuden Musiikin Kilapilu, while the wait was a little longer for the six other acts. Hosts Anne Lainto and Ile Uusivuori accompany us through the final tonight as Finland focuses its energy on choosing a suitable entry for the 2014 Eurovision Song Contest.
How do you follow last year's spectacular stage show given by Krista Siegfrieds and her collective propsal to fans with Marry Me? Well, tonight we'll find out within a few hours. Although both Softengine and Hanna Sky qualified directly to the final, judging by social media and various internet fora, there doesn't appear to be a clear favourite. Finns and their national final are as reliable as their Nokian Hakkapeliitta winter tyres when it comes to entertainment, so, although we don't know the winner yet, what we do know is that we're in for an evening of first class production and much enjoyment.  Just sit back, wait for the magic words "Tervetuloa ja hyvää iltaa, Suomi" and wait for the fun to begin at the Barona Areena in Espoo.
The songs: (To read more about the five participants check out our Get To Know articles from semi one and semi two.)
01. Softengine – Something Better
It's plain to both see and hear just why the lads in Softengine came, saw and conquered when performing in their heat and qualifying directly to the final. Peddling their own melodic brand of soft rock, they gave a tremendously accomplished performance outclassing their rivals. Something Beautiful would have been a much more apt title for this class act. The stage was primarily black with strokes of red for the first act of the evening, Softengine. They were well turned out in shirts and a mix of black and grey jackets, with the odd flash of gold and silver. The stage also featured an upright piano. From the moment they entered the stage, it came alive and their opener really seemed to get the audience in the mood. Polished, but at the same with a rough, rock edge, the five gave their all from the word go, emanating energy and confidence. Towards the end of the song, pyro fountains erupted around the edge of the stage. By the end of Something Beautiful, the audience were going wild and judging by their reactions, the jurors gave glowing reviews.
02. Hanna Sky – Hope
Hanna was the other of two acts to secure a spot directly in the final with an intriguing performance of her ethnically tinged Hope. Her stage show was kept simple and clutter free, thus appearing very fresh and honest and she could definitely be on to a winner with her message of positivity. Talk about a stark contrast between the blistering rock of the opening act and that of hers! Red was the prominent colour of the stage for her show, which didn't exactly go well with her flowing blue kaftan creation. She was joined by five backing singers who gave a well choreographed performance behind her. They were dressed in a combination of blacks and golds. The camera uldn't get enough of her, with plenty of close ups, and she also made good use of the stage floor. She had been rehearsing hard, because this was vocally flawless. If she does make it to Copenhagen however, it would be advisable to ditch that damned breakdancer, who served merely as a distraction. The tried and tested wind machine was put to good use as her song came to a close. Hers was another entry that received a strong reaction in Barona Areena.
03. MIAU– God/Drug
Feline trio MIAU are something of a dark horse – darker than the Finnish winters with their entry God/Drug which some will find highly addictive. Their oddball originality was highly refreshing with a beguiling mix of hypnotic beats and retro synth sounds. Tonight however, they had coordinated their outfits much more since their qualifying heat, taking to the stage wearing the same costumes that they had on in the semi final – black cat suits with white feathers attached to their shoulders. They were wearing black and silver/gold skin tight pants. They had two dancers on stage, one of which looked as if she came straight out of The Bride of Chucky sporting a green tutu. Their backdrop was much more lively than the first two acts with shockpink being their signature colour, with images of dancers projected onto it. The girls gave a feisty, gutsy performance, starting off slinkily before following the hypnotic beat and building into a raging, deafening number, that even the most hardened music fan would have no problem moshing along to! A sheer vitamin injection that certainly pepped up the arena. Not as obvious a choice as its two predecessors, but this could well be the one to watch tonight. 
04. Lauri Mikkola – Going Down 
Lauri had certainly decided for a change of outfit since the semis, sporting a pillarbox red suit with white t-shirt underneath and his trademark rosary. The stage was bathed in darkness pierced with white rays before more red came into show. He was joined by two female backing singers in gold with black trim, a pianist sitting at a grand piano and two guitarists on either side of the stage. He reached through the camera with an intense performance, belting out soaring and impressive vocals before he made use of the catwalk, walking down among the audience. Lauri impressed immensely with his slick presentation, voice sweeter than honey and his own take on blue eyed soul with his mid tempo entry Going Down. Hopefully his entry won't go down like a lead balloon with viewers, rather than soar like an eagle, hoovering up the votes left, right and centre. The close of Going Down was met with a roar from the excited audience which he had managed to whip up into a frenzy with his whoops and hollers. The noise levels didn't abate as the jurors told Lauri what they thought of his presentation.
05. MadCraft – Shining Bright 
The stage show of the last act and MadCraft couldn't be further apart. The youthful vivacity and brashness of MadCraft is charming and their song Shining Bright packs more punch than a round in the ring with Mike Tyson. Their backdrop featured skating ramps and the stahe decration came alive in vivid greeens and reds. They were still sporting their trademark skaterboy outfits with a hint of Americana, based loosely on something like Blink 182. The vocalist walked around a lot and seemed to be thoroughly enjoying himself, making plenty of gestures into the camera. In the build up to the end of their song, the band member went wild as two skaters entered the stage on their skateboards to do some turns as two pyro fountains went off. Plenty of waving and hands in the air to the singalong whoa-oh-oh chorus had the crowd in good spirits. It was a fresh and youthful stage show that had bundles of naive charm and a surprisingly sweet sounding melody. MadCraft's performance in general was solid, enthusiastic and their rough and ready appearance and swagger will definitelty be a draw for the younger viewers.
06. Mikko Pohjola– Sängyn reunalla (On the Edge of the Bed)
His stage show started off in black and white, which was very effective Babyfaced Mikko was sporting a plain white shirt and black trousers as white light beamed up around him. He was also joined by a guy playing an uprught piano , a drummer and a female backing singer who came to the fore during the middle of the stage. It was at this point that the screen burst into colour as the song built towards its crescendo, dazzling us with sapphire blues. The main gripe with this song is that tonight, the vocals, although very good, were drowned out by the accompanying rhythms and instrumentation. With one of only two songs sung in Finnish tonight, Mikko's Sängyn reunalla has a lot going for it. His is a soothing sound sandwiched between the brashand the uptempo numbers. Understatement is the strength of this song, and even if you don't understand Finnish, it's not neccessary – here, the music speaks for itself, with a beautiful melody tinged with sadness that may very well appeal to the Finnish penchant for melancholy.
07. Clarissa feat. Josh Standing – Top of the World
Clarissa and British Josh Standing seem to be getting a lot of fans excited with their classic slice of Eurodance Top of the World. A blinking, sparkling backdrop greeted viewers as Clarissa and Josh launched into the penultimate entry, Top of the World. Clarissa was wearing what looked like a black bathing suit with gold detail that was hooded, Josh was wearing jeans and a black and red top as they skipped and danced their way around stage. Their voices are perfectly suited, but their chemistry just does not come across on screen. Theirs was a heavily choreographed number with lots of acrobatics from their dancers. A vibrant performance, but hardly original. This slice of eurotrance dancepop has vague echoes of Euphoria crossed with a nineties feel in the style of E-type – it would probably be lapped up by fans of the more stereotypical Euro entry, but would surely drown on stage among all the other acts in Copenhagen.
08. Hukka ja mama – Selja
Hukka ja mama and the laid back country effort Selja breezed onto the stage in the first heat and certinaly gave Softengine a run for their money. Their draw as eighth and final act this evening should counterbalance their rivals opening spot, but will their gentle, slightly anonymous entry quickly fade from the minds of the viewer? Singer Martina gave us perhaps the loudest guffaw of the evening with her choice of headwear, something that resembled a birthday cake together with a dress that had some kind of psychedelic motif. Her bandmate Lasse was equally bizarrely attired in a bright pink and white cowboy shirt paired with beige pants.The backdrop was coloured with hues of yellow and orange for their show, and the sofa seen in their heat was back on stage. The two guiartists and drummer on stage provided excellent accompaniment. Theirs was yet another well rehearsed show – with plenty of country and western twang which the crowds appreciated immensely. Vocally Martina sounded a bit flat compared to some of the other acts tonight. This song has bags of charm and a relaxing, mellow sound that seemed to seduce the jurors and audience alike.
The show:
The show opened with a parody featuring the jurors receiving an SOS call from Krista somewhere in the snow, gradually making her way to Espoo in a tattered and dirty version of her costume from last year. This included crawling through some kind of shaft and having an extremely funny cat fight with Laura Voutilainen (Addicted to you, Finland 2002). She naturally made it on time and opened the show with a performance of her song AMEN! before launching into Marry Me to welcome viewers as the two hosts took to the stage and to introduce the evenings participants. By then she'd swiftly changed into a miniscule yellow creation. The stage was awash with the signature black and white stripes previosuly used in UMK, projected onto a giant LED arc with a giant triangle formation beneath it. Krista finished her entry Marry Me by walking down the catwalk before battle was to commence. Host Anne was wearing a futuristic outfit, in gold lame with shoulder pads making her look like an extra from Star Trek. The jurors were wearing equally outlandish garb, but Anne's co-host Ile was more soberly attired, entirely in black, with shirt and tuxedo his outfit for the evening. 
Following the fourth act, Anne Lainto took viewers for a short tour to the green room to see and feel the excitement. There she interviewed the final act on tonight, Hukka ja mama. Juror Redrama gave us a rendition of one of his songs, the trip beat effort Let It Go. Anne had changed outfit to a shimmering green emerald dress following Redrama's performance. Following the points given by the jurors, the anticipation was heightened further with everyone having to wait fr the result while Krista took to the stage once more to perform another song lookig like a cross between Moldova 2013's Aliona Moon and Albania 2011's Aurelia Gace!
The voting:
With the party swiftly coming to an end, it was time for the excitement to start, with the jurors awarding their points. Toni Wirtanen gave his top marks to MIAU, with Softengine right behind on eight points. Redrama was next up and he gave his top score of ten to Softengine and with Mikko Pohjola getting nine points. The temperature was rising in the green room as nerves began to set it. Aija was next to give her tuppenceworth, and she chose Softengine as her favourite, awarding them ten points. MIAU got her nine points. Tom was the final juror to award points and followed suit to give Softengine another ten points. Mikko gained the final nine points from the jury.
Would the public vote reflect the jury vote? Softengine had taken a convincing lead, but would this all change with the addition of the public vote? Mikko Pohjola was the first name to be called up, followed by MIAU and rockers Softengine. The placings were revealed in reverse order, with MIAU coming third, and a duel remaining, with the crowds shouting and screaming. Softengine were proclaimed the winners with Mikko Pohjola coming in second. See you in Copenhagen, boys!
Finland at the Eurovision Song Contest:
Finland have participated 48 times at the Eurovision Song Contest, if we include this year's entry. The land of a thousand lakes first made its debut back in 1961, with the entry Valoa Ikkunassa (Light in the Window) performed by Laila Kinnunen. They have come last in the contest an unenviable nine times and had to wait for what seemed like an eternity to taste the sweetness when Lordi cruised to victory with Hard Rock Hallelujah in 2006. They have twelve top ten results, the most recent prior to Lordi's landslide win being Anneli Saaristo's La Dolce Vita from 1989. Even though the eighties were only reasonably succesful for Finland in terms of results, some of the entries became extremely popular in Finland, most notably Ami Aspelund with Fantastiaa in 1983, Kirka with Hengailaan in 1984 and Vicky Rosti with Sata Salamaa in 1987. Last year, Finland made it to the final for a second consecutive year with Krista Siegfrieds and Marry Me, finishing 24th in the final.