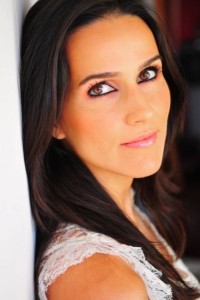 The presentation of the new album of Sofia Vitória will take place at the Centro Cultural Olga Cadaval in Sintra, Portugal on 15 March at 22:00 (local time). All the songs on the album tell the history of the female characters created by the Brazilian musician, writer and performer Chico Buarque.
Sofia Vitória represented Portugal at the 2004 Eurovision Song Contest with Foi Magia and since then she has participated in numerous projects ranging from jazz to Brazilian music. Palavra De Mulher, which means Women's Word, was recorded in 2012 and released two months ago at digital stores but this March, the CD will be finally on sale in physical format. Before the recording of this album, she has performed some of its songs in the major concert halls in Portugal, Brazil, Spain, the Netherlands, Italy or Turkey, among others.
This album is a collection of stories experienced by many female characters and it highlights the presence of women in the work of Chico Buarque who has always been recognized as one of the poets who knew how to capture and express women's feelings translating it into lyrics and music. It has been said about him that no other composer understands the feminine soul like him. His lyrics talks about happy and unhappy love affairs, dreams and nightmares, women who love women, the transvestite hero who saves a town, hopes and despair… a bunch of images and dramatic conflicts that make up the mosaic of the human soul.
This album allows listen to Chico's songs in a different way, more modern but with an intense talent. The songs are a mixture of jazz with classic music. The sound effects are all acoustic and they were made by excellent musicians. The lyrics are a portrait from the concerns, hopes and anxieties of the women showing us things we did not know about our little wider world.
All the tracks have something amazing and the variation of timbre of Sofia's voice, which goes from mellow to tragic and from merry to melancholic, works great with the intensity of the lyrics. And added to the wonderful voice of Sofia we have the piano arrangements of Luis Figueiredo.
The official presentation of Palavra De Mulher will be held on the 15th of March in Sintra, Portugal and, alongside Sofia Vitória and Luis Figueiredo, many special guests will be attending the event such as: Diogo Duke (trumpet and wing horn), Paul Gaspar (bass clarinet), Mário Franco (bass), Joel Silva (battery), Ricardo Toscano (alto saxophone), Cesar Cardoso (tenor saxophone) and Luis Cunha (trombone).