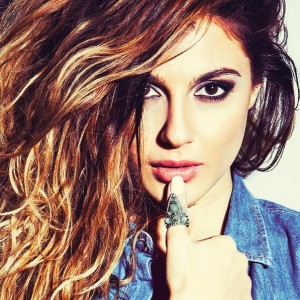 Armenia's Sirusho has been nominated for three prestigious World Music Awards, making her the first Armenian singer to ever receive a nomination. She competes against many of the biggest names in music including eurovision acts Loreen, Anggun and Anouk for the title Worlds Best Female Artist.
Sirusho is one of Armenia's biggest music stars and this year she is vying for some of the biggest prizes at the annual World Music Awards. She is competing against some of the biggest names in world music for Best Song and Best Video for her 2013 track PreGomesh and Worlds Best Female Artist. Also in the running for the Best Female title are French entrant in Baku 2012, Anggun, the Netherlands' 2013 artist Anouk and Swedish eurovision winner Loreen. 
Sirusho's nominations make her the first Armenian artist to ever be nominated for the World Music Awards, highlighting how her music really has built mass appeal across the globe. At the Belgrade contest in 2008 Sirusho advanced to the final and finished in an impressive 4th place on 199 points for her track Qele Qele. This remains Armenia's best placing to date at the contest.
In Spring 2013 rumours abounded that Sirusho was again to be named the representative for Malmö, however these proved unfounded. She did however perform in concert alongside the chosen 2013 Armenian eurovision act, the band Dorians in Yerevan, ahead of their representing their country in Sweden. 
The World Music Awards are decided by music sales in various global territories. Several of the main awards are chosen by online votes. The winners will be revealed this spring. You can vote for your favourite artists on the official
World Music Awards website
.
Watch below to see Sirusho performing in Eurovision 2008 and to hear her song nominated for the Awards.