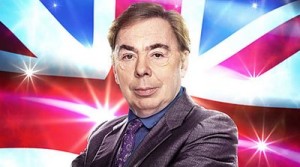 With the rare exception, the United Kingdom has had little to show of its former glory at the Eurovision Song Contest. Some fans blame a lack of interest on the part of the BBC, others claim that the rest of Europe has it in for the UK while Sir Andrew Lloyd Webber has talked about his own theory as to the lack of British success.
The distinguished composer Sir Andrew Lloyd Webber talked to the Radio Times recently, giving his opinions as to why the United Kingdom is no longer considered a force to be reckoned with and no longer dominates the contest as in times gone by. The issue of racism has already been up for discussion within the BBC, with the broadcaster concluding that it has found no evidence whatsoever to substantiate such claims. Lloyd Webber however, is not convinced. He refers to last year's British entrants Blue with I Can – a well established band with a considerable reputation and fanbase, who, despite a costly stage show and contemporary sound failed to achieve as good a placing as anticipated.
Lloyd Webber also spoke of his personal experiences, when he accompanied the BBC and Jade Ewen to Moscow in 2009, where the singer brought the United Kingdom their best placing in seven years, coming fifth with the dramatic ballad My Time. Ironically, Ewen herself is of mixed heritage. He claims to have been asked prior to his departure for Moscow "Why have you bought a black artist?" Lloyd Webber also believes that Ewen deserved a higher placing, stating that "At the press conference in Moscow I was asked "Why have you brought a black artist?", to which he replied "because she is the most talented star we had and I think she is a major, major star." Lloyd Webber does not beat around the bush in addressing the subject, stating that in the majority of western Europe, a black singer is no problem for the majority of televoters, but ultimately Ewen performing My Time could ultimately have cost the United Kingdom the first place that year: "If you're talking about Western Europe – Germany, fine; France, fine; Spain, fine; Greece, fine; Scandinavian countries, fine…but Ukraine? Not so good. Well, it doesn't mean that we would necessarily have won that year but we could have come second."
Whether Ewen could have provided serious competition for the landslide victory that Alexander Rybak experienced with Fairytale is doubtful at best, because, let's face it, he was unstoppable. As for the results of Andy Abraham and Josh Dubovie, perhaps Lloyd Webber should look at the obvious factors and not take the convenient argument of racism. Abraham was an artist who had hardly experienced a pinnacle of commercial success prior to the concert. Although he gave a more than competent performance, the song Even If itself was average at best and pretty unmemorable. These factors, combined with the worst conceivable draw were probably enough to put the nail in the coffin of Abraham's chances in 2008. Dubovie was yet another artist with relatively little stage experience singing an under par song by faded 80's dance maestros Mike Stock and Pete Waterman. The performance was catastrophically out of tune, nervous and amateurish. Therein lies the explanation for Dubovie's last place with That Sounds Good To Me in 2010.
In my view
While racism throughout Eastern Europe could possibly influence the
result negligibly, it can hardly be attributed as the sole determining
factor as to the success of the United Kigdom at Eurovision. And as for
using Ukraine as an example, well, Sir Lloyd Webber, if the entire
country was so racist, why on earth would they have bothered to let
Gaitana (also of mixed racial heritage) represent them with Be My Guest?
This year's winner, Loreen isn't exactly whiter than white either, yet
she more or less cleaned up the scoreboard, with votes piling in from
both east and west. Lloyd Webber's latest claims do very little to
justify the poor results of the United Kingdom and are made with
apparently very little knowledge of the contest in the past ten years.

The opinion expressed in "In my view" are those of the author and are not necessarily the one of EuroVisionary.com.