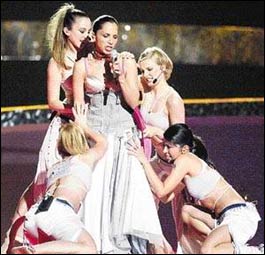 Sertab Erener decided to join a very big concert organization called 'Fanta Gençlik Festival' after she had released her latest album named 'Sertab Goes to Club' at the begining of 2008. She will be remembered as winner of Eurovision 2003 in Riga.
The advertised programme which Sertab has taken part in has already begun to be shown on the tv channels. The concert will be open for everyone but the main topic will be youth.
According to Sertab and her fans, these concerts will be very useful for her and her fans in Turkey. She has also decided to sing in the popular cities in which she can meet with her fans from all over the world.
The concerts will start 9th of July and will continue until 16th of August. There also will be famous singers and showmen like Candan Erçetin and Beyazit Öztürk at those concerts. According to organisers, there will be millions of fans watching the concerts during those periods. Here is the schedule of those concert programmes:
9th of July: Anadolu Üniversitesi – Eskişehir
10th of July: Armada AMV – Ankara
12th of July: Veteriner Lisesi – Samsun
13th of July: Adıgüzel Fuar Alanı – Trabzon
15th of July: Cumhuriyet Üniversitesi – Sivas
16th of July: TBA – Kayseri
18th of July: MişMiş Park – Malatya
19th of July: Eski Fuar Alanı – Gaziantep
20th of July: Karting Pisti – Adana
22nd of July: Atatürk Stadium – Konya
23rd of July: Beach Park – Antalya
25st of July: Aydin Stadium – Aydin
26th of July: Fuar – İzmir
27th of July: Ayvalık Belediye Plaji
30th of July: Asmerkez AMV – Bursa
01st of August: Outlet Center- İzmir
02nd of August: TBA – İstanbul
03rd of August: Belediye Festival Alanı- Tekirdağ
Links