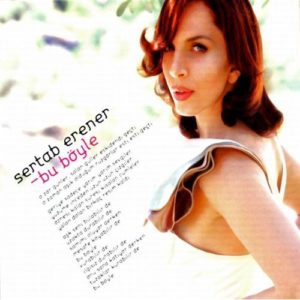 The former Eurovision Song Contest winner, Sertab Erener, returns to the stores with her new single, Bu Böyle (Like This). It is thought that Sertab will recover from her recent failure with the previous album Painted On Water.
Sertab's latest single includes five remixes of the song, Bu Böyle, from which the album took its name. The song is written and arranged by Soner Sarıkabadayı and Mustafa Ceceli. Hakan Özer, Murat Uncuoğlu and Emre Dündar have remixed the song.
The album includes:
"Bu Böyle" (Mustafa Ceceli version)
"Bu Böyle" (Alper Erinç Akustik version)
"Bu Böyle" (Alper Erinç version)
"Bu Böyle" (Hakan Özer version)
"Bu Böyle" (Murat Uncuoğlu & Emre Dündar version)
The lyrics are:
O zor günler solan güller eskidendi. Geçti!
O zaman aşık olduğum rüzgarlar esti esti. Geçti!
Geriye sadece yarım yarım sevgiler,
Yüzüme inceden uzun uzun çizgiler..
Öznesi kalan süresi kalan cümleler
Yalan dolan cümleler kaldı
Aşk seni bulabilir de, uzakta durabilir de
Samimi oluyor derken mesafe koyabilir de
Bu böyle vurabilir de, ilgisiz durabilir de
onu sana katıyor derken tuzaklar kurabilir de
Bu böyle…
The single can be bought on EuroVisionary by clicking the album picture on EuroShopping, on the left column of the page. You can also watch the videoclip of the song below.