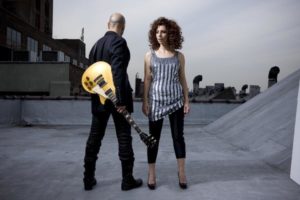 The Turkish Eurovision Song Contest winner, Sertab Erener, who won the contest in 2003 in Riga, has released a new album called Painted On Water. The album was recorded in New York, United States of America, and it is sung in English.
The album was released with the slogan; "Life is like water, and you put the colours into it". It includes songs which have been written by Demir Demirkan – who is the lyricist of the 2003 winning song, Everyway That I Can, and they are all sung in English.
The album contains songs in jazz, blues and American Music combined with eastern style music. The songs on the album are as follows:
~ Painted on Water
~ 1000 Faced Man
~ Shut Up and Dance
~ Mad Love
~ Nothing But to Pray
~ Before the Night
Demir Demirkan, the lyricist of the album Painted on Water said on the albums MySpace page"We chose Ebru as the visual counterpoint because you can do it live on stage. When we are playing, there's a projection from the artist as she's painting in his tray. It's spell-binding. Magical. After the artist is done, you have a printed paper, like recording music on a tape." You can also listen to the album by clicking here.
You can also remind yourself of Sertab Erener's winning song, Everyway That I Can, by watching the offical video of the song below: