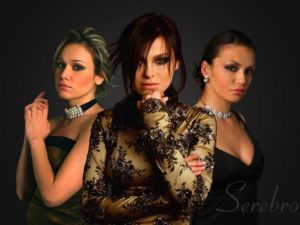 Song #1 gave Russian girl group Serebro a massive hit, charting in no fewer than five countries. The trio has had a string of hits under various guises, but overseas acclaim proved ellusive after their initial breakthrough up until last year. The girls' career also reached a milestone in their homeland with their recent nomination for 4 music awards.
When three feisty femme fatale schoolgirls called Serebro came together and stood on stage in Helsinki belting out Song #1, their combination proved to be irresistible and they took Russia as well as Eastern Europe by storm. Their bronze placed Eurovision single even went on to chart in numerous European countries such as the UK, Sweden, Switzerland and Denmark. Then they seemed to disappear into oblivion, but kept on regularly scoring massive Russian language hits in Russia and Ukraine, as well as releasing two top selling albums and an EP.
2009 ushered in decisive changes for the group, with the departure of Marina Lizorkina and the addition of Anastasia Karpova; the change also heralded their second album. The curiously entitled English language Mama Lover brought the trio back into the European limelight, with the single of the same name charting in six countries, including Belgium and Spain and even reaching the dizzy heights of number 4 on the Italian singles charts.
Since their formation, the girls have won numerous awards, and 2012 proves to be just as fruitful for them. At the up and coming ru.tv music awards, scheduled to take place on the 29th of September at the Crocus City Hall in Moscow, there are 10 categories up for grabs and Serebro have been nominated in no fewer than four categories. This annual parade of who's who in the Russian music industry will be taking place for the second time, and the group are in contention to win four award, the most noteable being band of the year, best dance track and best ringtone.  
Also on hand to cast a bit of glamour over the evening's proceedings will be former Eurovision winner and Russian megastar Dima Bilan, together with a line up featuring none other than Filipp Kirkorov, who we no doubt all remember wearing possibly the biggest medallion in the contest's history, when he sang the Russian entry in 1995, Колыбельная для вулкана. A host of other famous names such as Nikolai Baskov, Valerii Meladze and Vera Brezhneva will surely make for a most exciting and entertaining event indeed.
The video for the girls' latest hit Mama Lover can be seen below:
Links