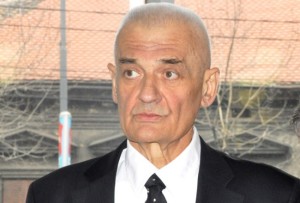 There have been reports for some time that Serbia might be one of the countries withdrawing from the 2014 Eurovision Song Contest. This scenario now appears less likely as the CEO of Radio Television of Serbia, Aleksandar Tijanić, publicly declared that it is the broadcaster's 'obligation' to send a representative in Copenhagen next May.
Recent reports have suggested that Serbia may be withdrawing from the contest citing financial difficulties due to funding cuts to the state broadcaster, RTS. Another ex-Yugoslav country, Croatia, officially announced last month that it is taking a one year break from the contest due to financial difficulties and a poor track record in recent years. However, Serbian participation in the 59th edition of Europe's favourite TV show may be one step closer as the RTS Chief Executive Officer, Aleksandar Tijanić, appears to be fervently in favour of the country staying in the contest.
'Our success in Eurovision is much higher than in the European Championship in football. We persistently and stubbornly play for championship qualification, but without achieving any results. Why does not someone propose to quit? Well, why should we give up? Croats gave up not because of money but because they did not achieve any success (…) In recent years, they sent vocal groups. It would be as if we sent some folk music performers', said Mr. Tijanić. Referring to what he considered to be the contest's main appeal, he added: 'Eurovision is a mixture of festival tourism, songs, shows, minority-oriented groups. When it comes to music, the quality is nothing special, it is a festival of light music, but the state should do all it can to send a representative to Denmark. In fact, we have a special obligation to participate, given that we were the hosts of a "contest" when Serbia won high praise for the organization.'
Financing a Serbian delegation to Copenhagen will probably be the deciding factor. It is reported that, at present, RTS can secure €200,000 from sponsors and advertisements whereas Eurovision participation will cost Serbia €350,000.

You may also want to read:
Croatia will not take part in the 2014 Eurovision Song Contest in Copenhagen
TRT and EBU to hold a critical meeting regarding Eurovision, in Istanbul
LTV started the selection process fo Eirodziesma 2014
Estonian broadcaster confirmed Eest Laul 2014 dates