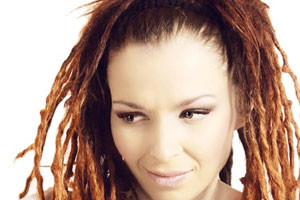 Rona Nishliu will represent Albania at the 2012 Eurovision Song Contest. Rona won the Festivali i Këngës with the song Suus.  Albania held two semi finals through the week where 10 songs from each show qualified for the final.  20 songs took part in the final tonight.
This was the 50th anniversary of the Festivali i Këngës.  On 28 December there was a gala show with all the songs from 1962 to 2000 being performed either by the original singers or new singers.  All the previous Albania Eurovision participants performed in the gala including Kejsi Tola, Olta Boka, Juliana Pasha and Aurela Gace.
However, all eyes were on the grand final tonight to see who would represent Albania at the 2012 Eurovision Song Contest.  Here are the 20 songs and acts and my thoughts of how they performed tonight.
1. Bojken Lako & Breza – Të zakonshëm – Bojken & Breza are dressed in black leather and look great.  This is a grunge rock style song with no melody.  Rather an irritating noise at times.
2. Saimir Braho – Ajër – This song is well performed.  Good show by Saimir.
3. Marjeta Billo – Vlen sa një jetë – Marjeta is dressed in black.  Good performance and good voice. 
4. Hersi Matmuja – Aty ku më le – A very strong performance with great vocals of this mid tempo song.
5. Xhensila Myrtzaj – Lulet mbledh për hënën – Nice song from Xhensila.  Orchestra works well with this song.
6. Toni Mehmetaj – Ëndrra e parë – Toni is dressed in black suit and white shirt and provides a good show for this uptempo song.
7. Iris Hoxha – Pa ty… asnjë sekond – Iris was a former winner of Star Akademy.  Here she is dressed in black.  She gives an outstanding vocal performance of this upbeat song. 
8.  Gerta Mahmutaj – Pyete zemrën – An exciting song and performance by Gerta of this uptempo dance song. 
9. Bashkim Alibali – Këngën time merr me vehte – Ethnic song by experienced by the mature Bashkim.  Quite old fashioned.
10. Altin Goci – Kthehem prap – light rock song.  A little boring though.
11. Elton Deda – Kristal – Elton dressed in black suit.  He has a beard.  One of the favourites but for me a little boring.
12. Endri & Stefi Prifti – Mbi çdo iluzion – Looking like the Blues Brothers Endri and Stefi give uninspiring performance to this bland song.  However, the orchestral make the song sound better.
13.  Rona Nishliu – Suus – Big and rousing, operatic ballad.  Very well received in the hall.  This worked very well with the orchestra.  A big performance from Rona.
14. Kamela Islamaj – Mbi yje – Kamela is dressed in a long black dress.  Competent performance of this gentle ballad. 
15. Frederik Ndoçi – Oh… jeta ime – Welcome back Frederik, from 2007 Eurovision. He is accompanied by two femail backing singers dressed in black.  This is a beautiful ethnic, Balkan ballad. 
16. Mariza Ikonomi – Më lër të të dua – Mariza is dressed in white blouse and black skirt.  This is an anthemic and melodic mid tempo song that works very well with the orchestra.  Very nice song.
17. Elhaida Dani – Mijëra vjet – Elhaida is dressed in a long black dress.  A standard ballad that is instantly forgettable.
18. Rudina Deliu – Më kërko – Rudina is wearing a grey/blue long dress.  Another ballad with good vocals but still a rather bland song.
19. Samanta Karavello – Zgjomë një tjetër ëndër – Samanta is wearing a white all in one suit with pink feathers.  She owns the stage and gives an outstanding performance of this love ballad.
20. Dr. Flori – Personale – Dr. Flori is very popular with his normal rap and dance style songs.  This is a rap song that for me does not really work.  Call for a Doctor!
The interval included a gathering of previous winners of the festival performing including Kejsi Tola, Juliana Pasha and Olta Boka.
So, Rona Nishliu will take the stage at the 2012 Eurovision Song Contest.  In second place was Elton Deda and third was Saimir Braho.  Will Rona be able to better Aurela Gace who failed to make the final for Albania in Germany?
You can see the video below of Rona performing Suus.