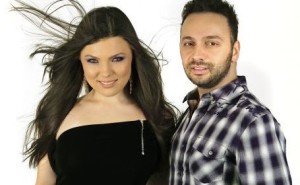 Paula Seling and Ovi who are in contention to represent Romania for the second time released their entry for the Romanian selection, Miracle. Twelve acts will make it to the final of the national selection which is scheduled for 1st March.
The successful Romanian duo released the full version of the song Miracle which was submitted in the Romanian selection for the forthcoming Eurovision Song Contest.
A few weeks ago Paula Seling and Ovi revealed their plans to try a second attempt and released a thirty second snippet of their entry. The song with a dance tune was fully released as an official single and is one of the songs that the Romanian broadcaster (TVR) received as part of the country's selection for the Eurovision Song Contest.
Some other popular Romanian artists that also announced that they will
be taking part in the national selection are Stefan Stan, winner of The Voice of Romania and Krystal Mills
who already was among the contenders in the Swiss selection.
The submission process ends on 14th February. A jury panel will select twelve entries behind close doors and it is expected that on 20th February they will be announced as the finalists to compete in the Romanian final scheduled for 1st March.
Paula Seling and Ovi represented Romania in the 2010 Eurovision Song Contest and finished third with the song Playing With Fire. It is the best result the country ever achieved alongside their 2005 participation Let Me Try by Luminiţa Anghel & Sistem.
Last year Cezar flew the Romanian flag in Malmö where he managed to qualify to the final and finished in thirteenth place.
You might also like to read:
Listen to Paula Seling and Ovi's entry in the video below