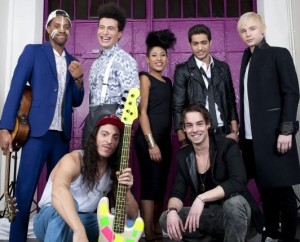 A French final hasn't been held since 2007, and following the catastrophic result by Amandine Bourgeois in Malmö, France 3 is trying a new approach to the contest. TV show Les Chansons d'Abord had a Eurovision theme this afternoon, as the three finalists performed their entries to the public with the hope of winning the all important ticket to Copenhagen.
Once a force to be reckoned with at Eurovision, France has only managed a top ten result six times in the last twenty years. In an attempt to restore French pride and fortunes at the contest, broadcaster France 3 have decided to revert to a national final of sorts, albeit on a small scale. Music show Les Chansons d'Abord has already featured some big Eurovision names over the past few months, with Céline Dion, Anggun and Lara Fabian gracing the studio. This afternoon however, the show was dedicated in its entirety to all things Eurovision as French-Canadian singer and 2001 entrant Natasha St. Pier presented the three candidates and their songs. Short snippets of the three entries were released earlier this week, so it will be interesting to see if all three acts can deliver the goods when performing them live.
The songs: 
01. Destan – Sans toi (Without you)
The three young male members of Destan took to the stage wearing outfits slightly reminiscent of the Blues Brothers – black and white being the primary colours. The keyboardist stands on stage alone at first, with his other two bandmates coming on one by one. Their vocals left a a lot to be desired – they sounded at times like teens rehearsing in a school band. Sans Toi itself isn't so bad; pop with rock elements, a memorable hook with a text mixing both French and English and and the song build nicely. The performance however is marred by the three trying to outsing each other with absolutely no chemistry whatsoever.
02. Joanna – Ma liberté (My freedom)
Joanna strode on stage wearing a simple, elegant black dress, which suited her skin tone perfectly. Her jet black hair was piled up on her head resembling a wave, and she was wearing broad metallic bracelets. She gave an empassioned performance of her big ballad Ma Liberté – a very intense delivery, although her voice was quite shaky at times and sounded a little strained when she had to sing in the lower register. The melody itself was very fetching – swirling piano over a string arrangement, lending the number a dark, brooding air with more than just a hint of James Bond. Having said that, it was on the whole a competent, assured performance and there should be plenty of viewers out there to vote for an emotional french ballad.   
03. Twin Twin – Moustache 
Twin Twin was the last act on stage to perform their entry Moustache. There were three female backing dancers in day glo colours doing a dance routine that made you sweat just looking at them. The lead singer of Twin Twin was wearig a grey shirt with white braces and a high afro style hairdo. He was joined by two guitarists whose outfits looked as if they had been bought in second hand shops, eclectic is perhaps the term. What is there to say about Moustache? It sounds fun – they gave a strong performance, but at the same time it sounds slightly neurotic and before the three minutes are up, you're longing to press the fast forward button. Lively, interesting and different, but perhaps a little too different for the mainstream to go for it. 
You can view all three perfomances in the clips provided below. 
The show:
Hostess Natasha St. Pier looked very foxy with her red hair in a plait and wearing a sleeveless black leather creation showing off her curves. She was joined by three guests on the sofa, Amaury Vassili, Anggun and Marie Myriam. In addition to the three Eurovision guests and performing some classic French language Eurovision entries, such as J'aime La Vie (Belgium, 1986), Ne Partez Pas Sans Moi (Switzerland 1988) and Poupée De Cire, Poupée De son (Luxemburg, 1966). There was a jovial atmosphere in the studio and all participants really let their hair down, seeming to enjoy themselves immensely. After each act had performed their entry, they were interviewed briefly by Natasha. Joanna said that she believed in her song, that she thought it could do well at Eurovision and that it would be an honour for her to represent France. In between performing the three entries, there were guest artists who kept the audience entertained by singing excerpts of past Eurovision entries such as Elle était si jolie (France, 1963), N'avoue jamais (France, 1965), Un banc, un arbre, une rue (Monaco, 1971), White and black blues (France, 1990), but one of the highlights was seeing Amaury Vassili perform Mama Corsica (France, 1993) together with one of the female vocalists.
Anggun complemented Natasha with her choice of outfit for the occasion – a slinky blck shirt paired with black hot pants and thigh high beige boots. Extremely saucy. She took to the stage and gave a spirited rendition of her 2012 entry Echo (You and I). Her vocals were pitch perfect, which probably made some wonder if she was in fact miming.
The hostess with the mostess Natasha took to the stage to perform a version of her fan favourite fourth placed 2001 entry Je n'ai que mon âme to rapturous applause. It would have been a fantastic accoustic rendition had it not been for the guest artists joining her, who managed nicely between them to butcher such a stunning song.
The voting:
Once all three candidates have performed their entries, voting will be open until the 23rd of February, with the public being able to vote for their favourite through televoting, SMS and internet voting on the official France 3 Eurovision website. Once closed, the public votes will make up 50% of the overall result, with votes from a professional jury making up the other half. The combined results will then be collated and announced on the 2nd of March, with either Joanna, Twin Twin or Destan emerging as winner.
France at the Eurovision Song Contest:
France is one of the handful of countries that made its debut at the 1956 Eurovision Song Contest in Lugano, Switzerland. With a total of 56 entries, they've had their fair share of winners over the years. It took only two years for France to score their first win in 1958 with André Claveau and Dors, mon amour. Another win swiftly followed in 1960 with the evergreen Tom Pillibi performed by Jacqueline Boyer. A third win was racked up in 1962 by Isabelle Aubret, when she took her moody Un premier amour to the top of the scoreboard. France was one of the four countries that tied for victory in 1969 with the dramatic ballad Un jour, un enfant sung by Frida Boccara. Wins at the contest started to become elusive, with the French having to wait another seven years for their next victory in the form of Marie Myriam and her rousing anthem, L'oiseau et l'enfant, the last French win to date.
A lack of wins since 1977 hasn't stopped the French from trying however. The eighties saw a mixed bag of results, finishing in the top ten six times. The nineties saw France at its best – innovative, varied, sending entries in a multitude of ethnic styles giving France a new golden age at the contest. They came close again to scoring a much longed for win with the Middle Eastern sounding Le dernier qui a parlé sung by the sultry Amina. She tied with Sweden's Carola for first place, and so for the first time since the 1969 débâcle, a count back of twelve and ten points awarded was necessary to avoid another tie break, with Carola emerging victorious. With five wins, six second places and seven third places, France nevertheless remains one of the most successful countries at Eurovision.