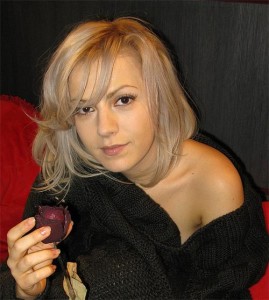 Following Miro's failure to qualify last year in Oslo, the pressure is on for the Bulgarians to deliver the goods this year. They have placed the task in the hands of Poli Genova to ensure a place in the final in Düsseldorf.
23 songs had originally qualified for tonight's show, broadcast from Sofia's National Palace of Culture. From the original 23 songs, only 19 remained in tonight's final, following the withdrawal of no fewer than 4 entries – this must surely equal the drama that Eesti Laul has given us this year! Sunrize's entry was disqualified due to the fact that their entry had previously been broadcast in contradiction with EBU regulations. Vessy, Zhan Shejtanov and Svetozar Hristov's entries were all withdrawn for various reasons. No one can ever claim that the Bulgarian selection is monotonous! But with 19 remaining candidates on show, viewers were spoilt for choice.
The songs:
Song 1:  Wickeda – Blue Cotton Levis
Wickeda were the first act out, on a stage ablaze with oranges and reds. A ska song, the first one since Turkey's 2004 entry. Casually dressed, they had obviously had no intention of dressing up for the occassion. A lively, if somewhat frantic performance
with a breakneck speed rhythm which seemed to go down well. They could have spared the viewers the naff guitar solo. Had the title not been in English, viewers would never have guessed that the song was being sung in English as the pronunciation was so bad!
Song 2: Plamena Petrova – БЕЗ ТЕБ/Without You
A slow, dramatic, pulsating opening for Plamena with a pillarbox red backdrop providing a great contrast to her elegant black dress. Following the opening, the song failed however to take off and was merely worsened by her shaky vocals. Not exactly in fine voice, Plamena shrieked at times and clearly struggled with the lower notes, not even her 3 backing singers being able to mask her vocal inabilities. Had the potential to be a great act, but ended up falling flat on its face.
Song 3: 032 – On Air
Group 032 gave us the first techno lite act of the evening, to a rapturous reception from the audience. The five members were an odd sight indeed, vaguely resembling a boy band, peddling a very danceable number where each member took turns to sing lines. With an ice cold light show on stage, it added to the club vibe. Again a fairly decent song marred by dodgy vocals, not that that put a dampener on their enthusiasm!
Song 4: The Sprint & Simona Sivanio – The New Earth
Smooth guitars provided the intro for this ballad with Simona purring away again in a black dress, clearly the must have colour of the evening. When the chorus kicked in however, the song took on a slightly rockier vibe with the addition of electric guitars. An OK entry, if a bit dull. Not the worst on offer tonight and a vocal performance she can be satisfied with.
Song 5: Vlado Dimov – СЯНКА/Shadow
Vlado was yet another popular act, receiving thundering applause. Dressed in a black silk shirt with black trousers and pierced ears, he fancied himself as a bit of a ladies man. With a slightly husky voice, Vlado's performance was dramatic, despite his lacklustre backing singers and the distracting dancers doing what looked like tango in the background. A slightly Balkan feel to the song, but with a rock edge.
Song 6: Ruth – Fever
Ruth had obviously been listening to a lot of Amy Winehouse, borrowing heavily from her in style of song and outfit, with a retro black dress. Quite soulful and 90's club beats at the same time, with a great flash of colour behind her, a mix of purples and reds. Definitely one of the most contemporary numbers of the evening and Ruth's singing abilities were some of the stronger on offer tonight. Funky with a capital F.
Song 7: Jerihon – Smile
Daniel Diges brother opens for Jerihon with twanging guitars accompanied by flashing yellows and oranges on stage. Wearing denim flares and a shirt with black tie, the lead singer had a certain je ne sais quoi about him. A brooding song, musically this was one of the more advanced entries of the evening, let down perhaps only by the trite lyrics. Loved the touch with the violin midway through the song.
Song 8: Elmira Kostova – МОМЕ ХУБАВА/Mome Nice
Dressed in what looked like traditional Bulgarian dress, Elmira opened her act with what sounded like a chant, before an electric guitar kicked in with its riffs. Oddly mesmerising, with pulsating beats and a kind of fusion between folk and electro, the singer looked remarkably stiff on stage and didn't seem to be enjoying herself at all. Nevertheless, a highly interesting song.
Song 9: 5-te Sezona – Take My Hand
Four singers stood still as the opening bars kicked in on this modern tune. Again, hopeless pronunciation detracts from what otherwise would be a stomping Balkan dance tune. Two boys and two girls made for a strange presentation on stage in outfits totally uncoordinated. With plenty of punching in the air, it was a lively enough act. It seemed to pass by very quickly, coming to and end before it had barely got started.
Song 10: Mona – Teen Life
Different! Mona certainly was like a breath of fresh air this evening, with clear electronic references to the 80's. Wearing a ruffled shirt with huge shoulder pads not seen since the new romantic movement and leather pants, she was a feast for the eye. A raw, terse song which is differs greatly from what has been on offer so far, if a little weak vocally.
Song 11: D2 – Glorious Twist
Flaming red opened D2's act, a rock number to shake things up a little. Dressed in similarly themed outfits befitting rockers, D2  gave a very good performance. The lead singer's voice suited the song perfectly, although he came across as perhaps a bit
too cocky on stage. The number had enough bite to make it stand out from the field tonight.
Song 12: Lazar Kission – ЗАМЕСТИТЕЛ/Substitute
Surrounded by a ring of light on a darkened stage, the opening was extremely effective for what starts of as a ballad before generic drum beats set in. Lazar was dressed in a casually smart black ensemble (yet again)! Not the most convincing performance of the night with quite an ordinary song that was a strange mix of a ballad that threatens to turn techno. Plenty of emoting towards the end was sadly not enought to lift this bland number any higher.
Song 13: Svetelina Chendova – Luxury Hotel
Bongo drums open this number with an atmospheric guitar accompaniment. Svetelina standing in a white skirt with black top, her voice at times clashed quite badly with the male guitarist's. At best limp, this became extremely repetetive after the first 30 seconds. Very much the anti performer, Svetelina often kept her eyes closed, with no interaction with the camera.
Song 14: Stanny Brown feat. NASO – I Know
This male-female duo were wearing hip outfits trying way too hard to be cool. A background with flashing blues, pinks and yellows did nothing for the act. The song was pretty weak, bordering somewhere between funk, soul and faux R'n'B. The female singer sounded strained throughout almost the entire song and if possible, I know was even more repetitive than it's predecessor.
Song 15: Poli Genova – НА ИНАТ/Stubborn
Poli opened her number in a Michelle pose, sitting on the floor cross legged. With white hair and another black outfit, she looked striking in a startling way. The song began deceptively with a piano led ballad intro, lulling us into a false sense of security before transforming into a full blown rock number. She mad good use of the stage and certainly had stage presence. If a little weak tune wise, Poli definitelty gave it her all.
Song 16: Bohan Mihajlov – НЕСТИНАРИ/Nestinari
Again the stage was ablaze with fire as oranges and yellows almost blinded us. The most Balkan flavoured number of the night without doubt, Bohan took to the stage in a plain white shirt and leather pants, flanked by singers in traditional dress who at times veered painfully off key. A rather lacklustre tune in places, it's saving grace was the addition of pipes and drums giving it its ethnic feel. Bohan was another performer who was almost glued to the spot, in definite need of thawing out. Not bad, though.
Song 17: Milena Slavova – Fire In My Hair
Milena was another artist to stand out styling wise, who definitely made an impact! Looking like an escapee from a Halloween party (someone should tell her that the Frankenstein make up is not fetching), her rock number literally set the place on fire with two performers to the side swinging fire on chains, giving a startling effect. Sumo wrestlers just made the number that little bit more bizarre, if that was at all possible. Not much else positive can be said about this number, though. It died a death on stage.
Song 18: Jakob – Wicked Way Of Love
Swedish Jakob is trying his hand to represent Bulgaria tonight. With the stage bathed in blue, Jakob's song opened quite sultrily. He stood centre stage in an open white shirt with rosaries and black waistcoat. Vocally the mot convincing of the night, his song had a definitive flamenco feel which paired with the violin extremely well. Without doubt one of the stronger acts of the evening, this one is an obvious contender.
Song 19: Emilka Valente – ПЛЕНЯВАШ МЕ/Fascinate Me
Emilka emerged from under a dancer wearing what resembled a parachute, twining ribbons with her male counterpart in a weak parody of Sertab. Emilka stood at the edge of the stage, leaving her dancers in the centre, making for a bizarre presentation. The song was as dull as dishwater, with rhythms all over the place and a barely existing melody, making it anything other than fascinating. Someone should really point out to her that less is more when it comes to make up.
The show:
The final got to off to a start with a foxy performance of I'm Alive by what looked like Charlotte Pirelli in a black wig (the hostess), singing a great uptempo number reminiscent of Rihanna. The stage was impressive, with a huge black circle as centrepiece, with a backdrop of abstract curves that change colour and a circle of spotlights above the centre of the stage. The hosts took to the stage, the female presenter wearing a floor length strapless red dress, her male counterpart modernly attired in a black suit and white t-shirt. Short interviewa followed each act before they began their performances. With 19 acts to get through, the approach of Bulgarian TV was no nonsense, to put it mildly! Romanian hopefuls Hotel FM gave us a taster as to what we can expect from them in Germany as they performed as one of the guest acts this evening alongside the groups Dirty Purches and Tri O Five.  A nice feature of Hotel FM's act was the small flame on the piano during their performance, an obvious reference to last year's triumph, Playing with Fire. One of the most impressive performances of the night was by a pre teen girl giving her rendition of Ruslana's Wild Dances. Look out for her in the future! This was swiftly followed by an equally impressive version of Lena's Satellite Alexander Rybak's Fairytale, Sertab's Every Way That I Can, Elena Paparizou's My Number One, Dana International's Diva, ABBA's Waterloo, Marija's Molitva and Elisa and Stoyan's Voda all sung by equally talented and young performers. After their performances wea ctually really got to hear the audience cheer for the first time tonight!
The voting:
The selection of this year's Bulgarian entry was the result of a combination of audience votes and votes that had already been cast by members of a panel, especially formed for the event, thus hopefully ensuring that a certain standard is maintained. There was no build up as such to the result, but pictures from the green room showed a clearly emotional Poli Genova weep as she was announced the winner.