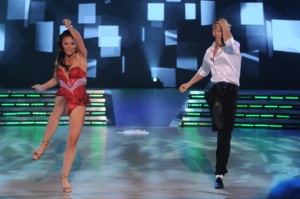 The biggest event which the EBU (European Broadcasting Union) organises after the Eurovision and Junior Song Contests, the Eurovision Dance Contest, was held in Glasgow, UK last night.
Poland was the winner at the end of the show and The Netherlands had the biggest disapointment, scoring only 1 point.
Graham Norton and Claudia Winkleman were the hosts of the second Eurovision Dance Contest and Glasgow's international broadcaster SECC distrubited the show, which was 132 minutes long. Fourteen countries from around Europe competed in the Eurovision Dance Contest last night. Millions of people watched on tv and the 2000 strong audience in Glasgow witnessed a great show.
The contest was broadcast in 21 countries with television as well as internet broadcasting. The Polish dancers Edyta Herbus and Marcin Mroczek won the competition with Rumba and Cha-Cha flavoured with modern jazz. Finland won last year's Eurovision Dance Contest, which was the first one.
Each couple comprised a professional dancer and a national celebrity and had only two minutes to impress the jury and millions of people watching this show. In keeping with this rule, Edyta Herbus danced as the professional dancer with her partner Marcin Mroczek as the celebrity of Poland, where he is a famous actor.
Sweden, Austria, Denmark, Azerbaijan, Ireland, Finland, The Netherlands, Lithuania, United Kingdom, Russia, Greece, Portugal, Poland and Ukraine performed in this order last night. Poland had 154 points in total, Ukraine came second with 121 points and this year's Eurovision Song Contest winner Russia came third with 119 points. Azerbaijan came 5th in their first Eurovision Dance Contest behind Lithuania. The highest points awarded by the judges, which made up 25% of the total scores given to each country, went to Denmark, who finished 6th overall after the televotes had been added, with 102 points. The biggest shock belonged to The Netherlands, who only took 1 point.
At the end of the contest, Edyta and Marcin couldn't hide their happiness. They were already overjoyed when they entered the pressroom. They both had the same opinion that the contest was very hard and they were happy to win it.
Tal Barnea also couldn't hide his happiness about the contest. "It was an exciting evening full of great entertainment and very high quality performances, supported by an amazing audience of over 2,000 people, who raised the roof with enthusiasm! We are very impressed with the way the event grew so much from year one to year two and with the high level of the production," says Executive Supervisor of the Eurovision Dance Contest on behalf of the European Broadcasting Union.
Links